This year's stock-market correction reminds us once again that forecasting is folly. We have discussed this many times before (see this, this and this) so suffice it to say that the evidence is in: humans have no ability to say what will occur in the future. I was reminded of this courtesy of an article published one year ago today on the imminent recovery in oil prices.
The article in question, headlined "Why Oil Prices Will Rebound Before We Know It," appeared when oil prices were about $50 a barrel. Crude briefly bounced to $60, before dropping more than 50 percent to about $26, where it trades today.
It's not just energy forecasters who make mistakes — all of Wall Street has an unfortunate tendency to try to divine the future by looking at chicken entrails. Consider two recent Bloomberg stories: The first reported that Goldman Sachs had abandoned five of its six top trade recommendations for 2016 just six weeks into the new year. In the same vein Wall Street analysts are reducing their estimates for the Standard & Poor's 500 Index, again just a few weeks into the new year. My colleague Josh Brown calls this phenomenon "Nobody Knows Nothing, Episode 653."
Consider this definition: a prediction contains these key elements — it is a forecast of a future event that is specific in time and numerical value. For investors' purposes, this means an asset class, a price target and a date.
Continues here:  Oil's Rebound and Other Wrong-Way Forecasts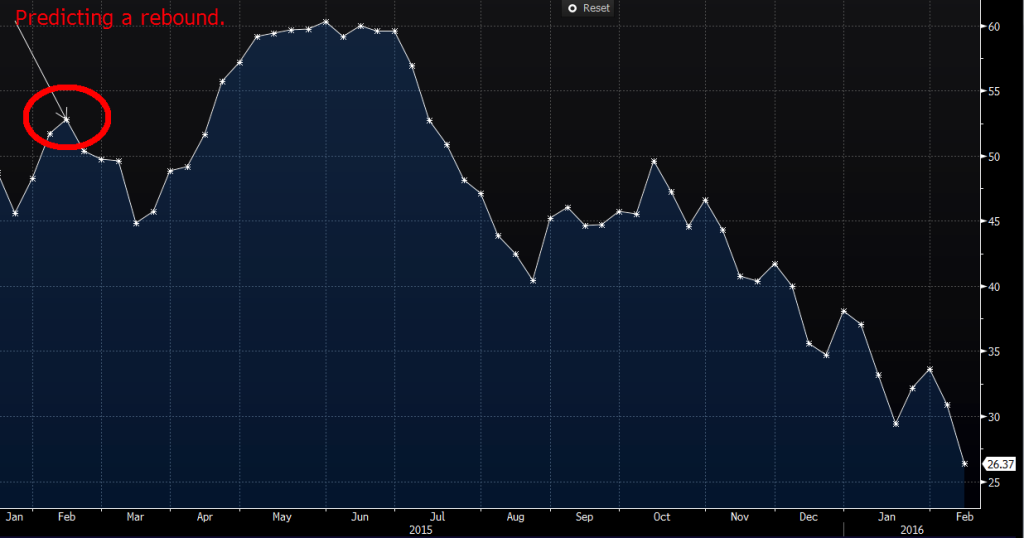 Source: Bloomberg