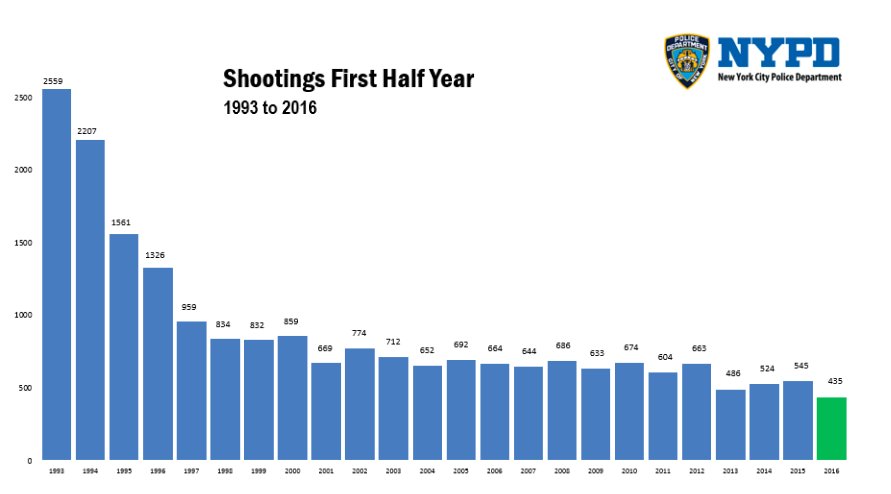 Source: NYPD
Now that the political conventions are in full throat and the silly season has started, I thought it might be time for a reminder about reality.
In particular, the use and abuse of statistics, and the many ways people ignore data.
I was reminded of this last week in Missouri at the annual conference of the Missouri Association of Public Employee Retirement Systems (MAPERs), where I gave a presentation on misunderstanding risk. Before my speech, I had been speaking to a lot of current and retired police officers. Given all of the awful headlines news, they were concerned about an increase in violence generally and violence directed at cops specifically. They were quite surprised that while the headlines were screaming one thing, the data were saying something very different. Not only has violent crime been in decline, but the number of police fatalities also has been falling steadily for decades;data reveal that the past eight years has seen record-low numbers of officers killed in action (assaults on officers are down as well).
The drop in murders and violent crime is a national trend. Azi Paybarah, a reporter for Politico, pointed out that New York has had the fewest shootings on record in this year's first half. The Washington Post noted that "compared to the first half of 1993, near the city's crime peak, Donald Trump's hometown has seen a 76.8 percent drop in violent crime and an 83 percent drop in murders." That is hardly a picture of criminals running amok, at least in New York. (You can see earlier years of police data at New York City's website; here is the FBI's Uniform Crime Reports).
Continues at: Soaring Crime, Bad Loans and Misleading Numbers