I've mentioned the magazine cover indicator
several times in the past. I find its utility to be greater when
discussing major trends and events — Oil, Real Estate, Markets — than
any specific stock. As investors, you should pay much closer attention to the big picture when major magazines tout fairly known trends on their covers.
These are what tend to get top ticked — not individual stocks.
For example, Time pretty much caught the top in Real Estate this past June (Fortune's Housing cover was only a month earlier), while Forbes nailed the top in the Technology recovery (Tech is Back!) on February 05, 2004. Recall that Time top also ticked the internet bubble, naming Amazon's founder Jeff Bezos as its man of the year in December 1999. Indeed, the mother of all magazine cover indicators was when Business Week nailed the bottom of the Bear Market with their infamous Death of Equities (August 13, 1979) — just before the beginning of an 18 year Bull market.
It seems to apply to politics as well. Time pinpointed the peak of Howard Dean's Presidential run. They may have even top-ticked the GOP back in April of this year, putting a certain shrill blonde harpy on their cover.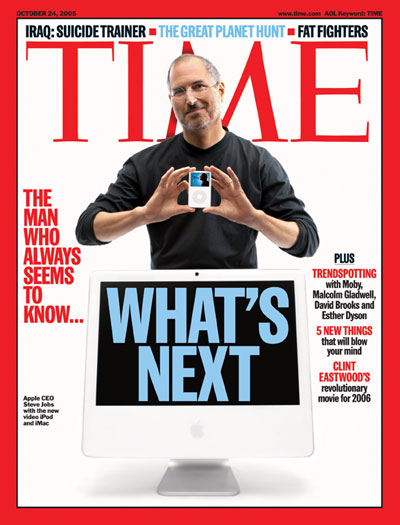 Courtesy of Time
So how does this play out with individual firms? I noted that Apple was on the Cover of Fortune back on February 14, 2005. Here's how the stock has done since then:
click for larger chart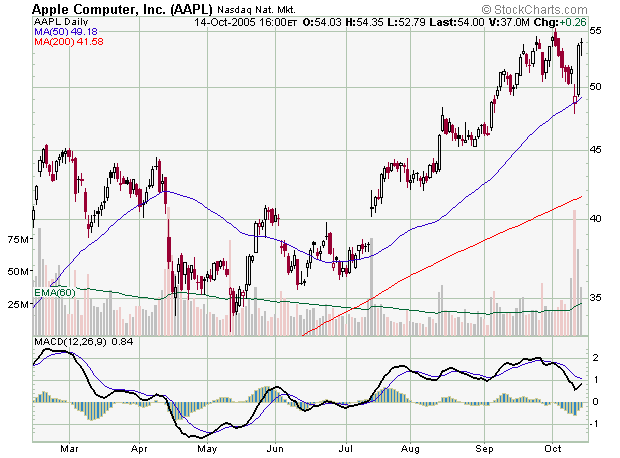 Source: Stockcharts
Not exactly armageddon, is it?
Source:
How Apple Does It
Conventional wisdom says its strategy is wrong, yet it keeps turning out great products. TIME looks inside the world's most innovative company
LEV GROSSMAN
Time, Posted Sunday, Oct. 16, 2005
http://www.time.com/time/magazine/article/0,9171,1118384,00.html