That's right kids, its coming:  The preview of the Final Cut is Saturday Night, 9pm, at the THE 45th NEW YORK FILM FESTIVAL (full schedule here).
Here's the official blurb:
"Blade Runner: The Final Cut Series: The 45th New York Film Festival [Sep 28 – Oct 14 2007]
Director: Ridley Scott, Country: USA, Release: 2007, Runtime: 118

Ridley Scott's legendary adaptation of Phillip K. Dick's Do Androids Dream of Electric Sheep? gave us a startling vision of a noir-ishly dystopic future, in which the line between human and non-human has worn perilously thin.

Scott's masterpiece not only anticipated our future but designed it: Much of our world today appears, well, just so Blade Runner. To commemorate its 25th anniversary, Scott has gone back, corrected a few details and fashioned a version that he feels is closest to what he had originally intended.

One of the greatest American films of the Eighties has just gotten even better.
(A Warner Bros. release.)

In addition to screening Blade Runner: The Final Cut, our 25th anniversary salute to this key work of science fiction includes "The Future Is Now," a panel discussion with prominent film scholars."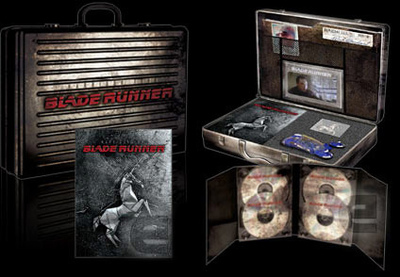 I also see that one of the screenings is taking place at the single best movie theater on the planet: The Ziegfeld (141 West 54th Street).
Very very cool.
As we noted previously, the 5 DVD disc  Blade Runner set is to follow next year. I am not sure if there will be a wider theatrical release, but one can hope.
>
Source:
Blade Runner: The Final Cut
The 45th New York Film Festival
Sep 29 – Oct 14 2007
http://www.filmlinc.com/nyff/program/films/bladerunner.html