On February 14, 2014, the Hennessey Venom GT set a new world speed record for 2-seat sports cars by reaching a top speed of 270.49 mph (435.31 km/h). The test was performed at the Kennedy Space Center on the 3.2-mile Space Shuttle landing runway. Brian Smith, Director of Miller Motorsports Park, drove the Venom GT to its record speed. A representative from Racelogic, world-renowned maker of VBox GPS data-acquisition systems, was on hand to independently verify and document the Venom GT's highest recorded speed.

~~~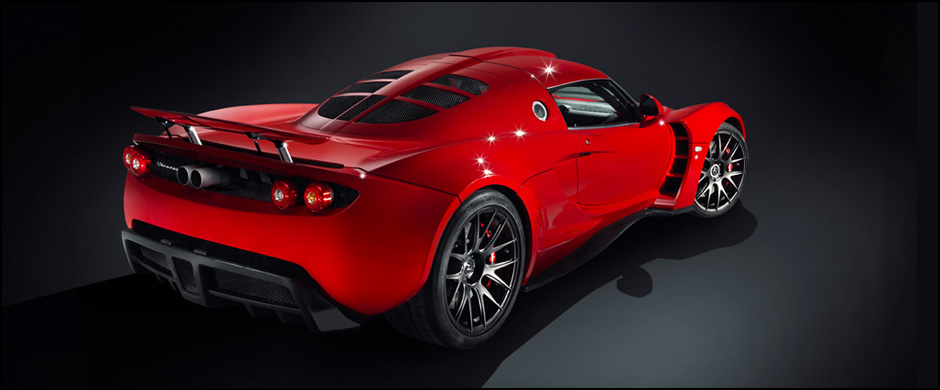 2013 Hennessey Venom GT Specifications
Performance
0-60 mph
0-100 mph
0-300 km/h
0-200 mph
¼ mile
Standing half mile
Standing mile
Verified speed
Est. top speed

2.7 sec.
5.6 sec.
13.63 sec. – Guinness World Record
14.51 sec. – Hypercar World Record
9.92 sec. @ 163 mph
206 mph
253 mph
270.49 mph
278 mph
---
Engine
Type
Valvetrain
Block/heads
Forced induction
Horsepower
Torque
Displacement
Compression ratio
Redline
Lubrication
Fuel injection

90-degree V8
overhead valve, 2 valves/cyl
iron /aluminum
twin precision ball bearing turbochargers
1244 bhp @ 6600 rpm (cockpit-adjustable to 800, 1000 & 1244 bhp)
1155 lb-ft @ 4400 rpm
7000 cc/427 cu. in.
9.2:1
7200 rpm
dry sump system
electronic sequential multi-port
---
Chassis
Layout
Body/frame
Brakes, f & r
Wheels
Tires
Steering
Suspension, f &r
Springs/shocks
Ride height

mid-longitudinal engine/rear drive
carbon fiber & composite/aluminum hybrid monocoque-space frame
15.0 x 1.3-in. carbon-ceramic rotors, 6-piston Brembo fixed calipers
Hennessey H10 forged monoblock, 9.5 x 19 front, 12.5 x 20 rear
Michelin Pilot Super Sport; 265/30ZR19 front, 345/30ZR20 rear
rack & pinion, 6-position variable electric assist
Sunequal-length tubular A-arms, anti-roll bars
Penske 2-way-adjustable coilovers
adjustable; range of 2.4 in.
---
Drivetrain
Transmission
Ricardo 6-Speed Manual
Final Drive Ratio
3.36:1
1st gear/max speed
2nd gear/max speed
3rd gear/max speed
4th gear/max speed
5th gear/max speed
6th gear/max speed
2.61:1 69 mph
1.71:1 105 mph
1.23:1 146 mph
0.94:1 191mph
0.77:1 233 mph
0.63:1 278 mph
---
Dimensions & Capacities
Length
Width
Height
Wheelbase
Track, front
Track, rear
Ground clearance
Curb weight
Fuel capacity
Weight distribution, f/r %
(with driver & passenger)
183.7 in./4655 mm
77.2 in./1960 mm
44.7 in./1135 mm
110.2 in./2800 mm
63.5 in./1612 mm
63.2 in./1604 mm
3.5 in. to 5.9 in./90 mm to 150 mm
2743 lb/1244 kg
18.5 gal./70 liters
44/56
---
The Venom GT was powered with Pennzoil Platinum® with PurePlus™ Technology, a first of its kind synthetic motor oil made from natural gas
Optional Upgrades
• Michelin Pilot Sport Cup ZP Tires
• Bare Carbon Fiber Finish
• Right-Hand Drive
• Stefano Ricci Bespoke Interior
• Stereo System Designed by Steven Tyler of Aerosmith
Source: Venom GT