My Sunday Washington Post Business Section column is out. This morning, we look at the favorite reads of a number of finance notables.
The print version had the full headline On-the-books advice on reads, while the online version was On-the-books advice from financial leaders.
Here's an excerpt from the column:
"Late last year, in a fit of pique lamenting poor financial advice in the media, I wrote a column headlined "Bah humbug to ridiculous year-end financial advice." In it, I urged people to read books.

I mentioned that my favorite of 2015 was "Last Ape Standing: The Seven-Million-Year Story of How and Why We Survived" by Chip Walter. A few readers reached out to ask for more book ideas, wondering whom I might ask for their recommendations. So I did that. I sent out a request to my favorite strategists, fund managers, economists and others, asking "What was the best book you read in 2015?"
I sent emails out to a few dozen friends and colleagues. What followed was a nice assortment of books from some of the savviest people on Wall Street; go create a reading list for yourself for 2016.
I really like what the post did art wise: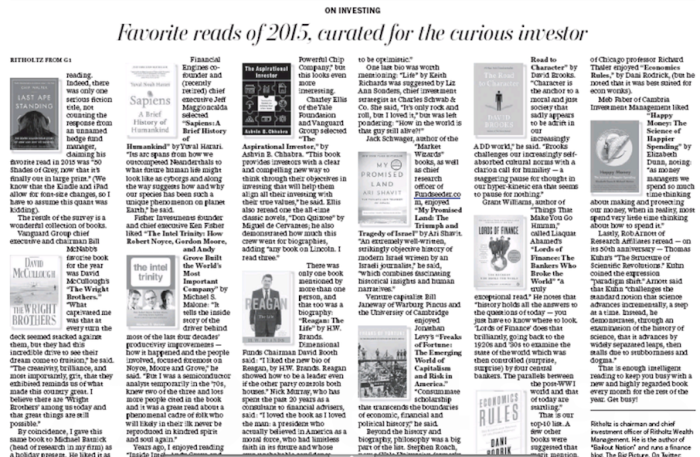 Source:
On-the-books advice from financial leaders
Barry Ritholtz
Washington Post, February 7, 2016  
wapo.st/20hgNuR