Its a 3 day weekend! Settle into your favorite easy chair, pour yourself a hot mug of Ethiopian Yirgacheffe, and get ready for our longer form weekend reads:
• The Deadly Global War for Sand (Wired)
• The Surgeon Will Skype You Now: The tech for surgeons to operate on patients from hundreds or even thousands of miles away has been possible for over a decade. But will it ever become commonplace? (Popular Mechanics)
• A Hierarchy of Advisor Value (Above the Market)
• Bernie Sanders Doesn't Know Diddly-Squat About Wall Street (Vanity Fair)
• The chips are down for Moore's law: The semiconductor industry will soon abandon its pursuit of Moore's law. Now things could get a lot more interesting. (Nature)
• The Plot to Steal the Color White From DuPont (Bloomberg)
• The Collision Sport on Trial (NY Review of Books) see also Could You Stomach the Horrors of 'Halftime' in Ancient Rome? (Live Science)
• Awakenings: How Oliver Sacks put a human face on the science of the mind (Globe & Mail)
• New Hampshire is a fraud (Washington Post)
• The Math Revolution: The number of American teens who excel at advanced math has surged. Why? (The Atlantic)
Be sure to check out our Masters in Business interview this weekend with Allianz' Mohammed El-Erian.
World Equity Values – Last Ten Years, Indexed to 100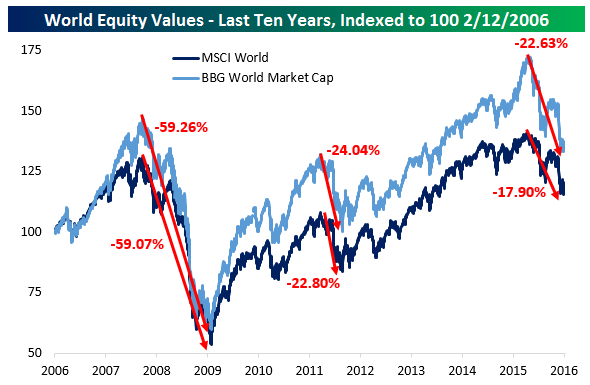 Source: Bespoke Investment Group