I wanted to remind you just how fantastic Gary Shandling was.
You may not realize this, but much of the comedy you see on television was directly impacted by him.
Whenever the subject of favorite television shows comes up, I always claim The Larry Sanders Show as my favorite comedy of all time. Its so insightful and knowing, and of course utterly hilarious. Just think about the insanely talented people that the show introduced us to: Jeremy Piven, Jon Stewart, Sarah Silverman, Bob Odenkirk, Janeane Garofalo, and of course, (Hey, Now!) Jeff Tambor. Judd Apatow was one of the shows writer/producers.
A few clips worth seeing again: Shandling on CICGC with Seinfeld is transcendent; the full hour interview with Charlie Rose is also must see.
Oh, and this is the greatest deal ever: The Larry Sanders Show – The Complete Series 9 Discs, $20 !  (they are on back order)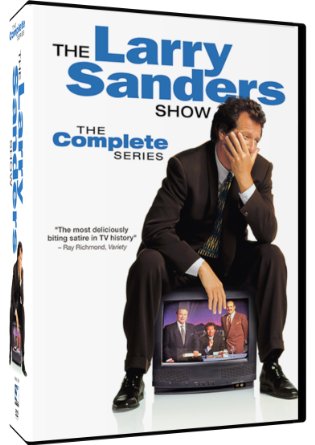 click for video



Source: Comedians In Cars Getting Coffee
Garry Shandling Interview With Charlie Rose, Nov 16, 1998
See also:
• Garry Shandling's 'The Larry Sanders Show' is where the new age of television really began (L.A. Times)
• 10 episodes that made The Larry Sanders Show one of the best comedies of the '90s (AV Club)
The Larry Sanders Show – The Complete Series (9 Discs)
Season 1
What Have You Done For Me Lately?
Promise
The Spider's Episode
Guest Host
The New Producer Episode
The Flirt Episode
Hank's Contract
Out of the Loop
The Talk Show Episode
Party
The Warmth Episode
A Brush With (The Elbow Of) Greatness
The 'Hey Now' Episode
Season 2
The Breakdown
The List
The Stalker
Larry's Agent
The Hankerciser
Life Behind Larry
Artie's Gone
Larry Loses Interest
Larry's Partner
Broadcast Nudes
Larry's Birthday
Being There
The Performance Artist
Hank's Wedding
Off Camera
The Grand Opening
New York Or LA
Season 3
Montana
You're Having My Baby
Would You Do Me a Favor?
The Gift Episode
People's Choice
Hank's Night in the Sun
Office Romance
The Mr. Sharon Stone Show
Headwriter
Like No Business I Know
Larry Loses a Friend
Doubt of the Benefit
Hank's Divorce
The Fourteenth Floor
Next Stop Bottom
Arthur's Crises
End of the Season
Season 4
Roseanne's Return
Hank's New Assistant
Arthur After Hours
The Bump
Jeannie's Visit
The P.A.
Hank's Sex Tape
Nothing Personal
Brother, Can You Spare 1.2 Million?
Conflict of Interest
I Was a Teenage Lesbian
Larry's Sitcom
Larry's Big Idea
Beverly and the Prop Job
0.409
Eight
Larry's on Vacation
Season 5
Everybody Loves Larry
My Name Is Asher Kingsley
Where Is the Love?
Ellen, or Isn't She?
The New Writer
The Matchmaker
Make a Wish
Artie and Angie and Hank and Hercules
The Prank
The Book
Pain Equals Funny
The Roast
Larry's New Love
Season 6
Another List
The Beginning of the End
As My Career Lay Dying
Pilots and Pens Lost
The Interview
Adolf Hankler
Beverly's Secret
I Buried Sid
Just the Perfect Blendship
Putting the 'Gay' Back in Litigation
Flip