3 day weekend! Kick it off right with our Good Friday morning train sleep-in-late reads:
• Business Lessons From The Grateful Dead (Fortune)
• Bubbles Spread Like a Zombie Virus (Bloomberg View)
• What does it mean to be "economically literate" anyway? (FT Alphaville)
• Is the Market Overvalued or are the Measuring Gauges Broken? (Advisor Perspective)
• The artist whose painting got her dumped by Schwab (Fusion)
• How Vizio and Google radically reinvented the TV (The Verge)
• On Business Issues, Republicans Might Want a Justice Garland (NYT)
• Why Donald Trump? A quest to figure out what's happening in America. (FiveThirtyEight)
• How well online dating works, according to someone who has been studying it for years (Washington Post)
• No Flipping: Remembering Garry Shandling (NYT)
Be sure to check out our Masters in Business interview on Good Friday with Helene Olen, author of Pound Foolish: Exposing the Dark Side of the Personal Finance Industry. 
Warehouse Stocks of Copper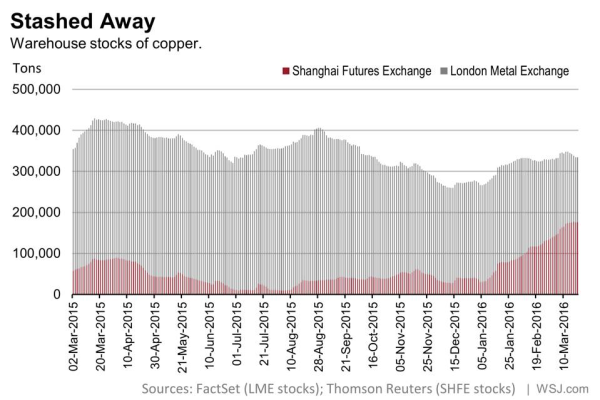 Source: MoneyBeat