My two-fer-Tuesday morning train beach reads:
• Hold Your Nose and Buy Europe (WSJ Blogs) see also The Conditions You'd Want For a Bottom Are Already Here (The Reformed Broker)
• Lost Decade for Value Stocks Tests Faithful Who Say End is Nigh (Bloomberg)
• The War on Data (Calculated Risk) see also Why Everyone Disagrees About the Economy (Motley Fool)
• Sustainable investing sees hippies give way to suits (Bloomberg Professional)
• Hedge Funds Bedeviled by Weak Performance (Barron's) but see also Alternatives Monthly: Andrew Lo's Strategy (Barron's)
• One of the World's Greatest Art Collections Hides Behind This Fence (NYT)
• Is Trump repeating Romney's Fatal Blunder? (WND) see also Obama's Numbers Better Read on 2016 Than Clinton-Trump Polls (BloombergPolitics )
• Hackers turn stock advisers as Anonymous targets China Inc. (Nikkei Asian Review)
• How the Profound Changes in Economics Make Left Versus Right Debates Irrelevant (Evonomics) see also The Left Right Paradigm is Over: Its You vs. Corporations (TBP)
• HBO's 'Silicon Valley' Calls Out the Tech Industry's Thin Skin (Fortune)
Be sure to check out our Masters in Business interview this weekend with Burton Malkiel, author of A Random Walk Down Wall Street and professor at Princeton.
Unplanned oil outages are at the highest level in more than a decade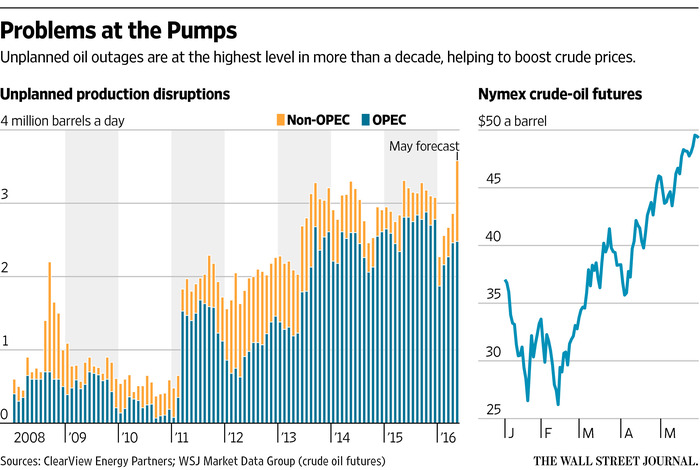 Source: WSJ