The weekend is here! Pour yourself a double expresso, grab a comfy seat, and get ready for our longer form weekend reads:
• Siri's creators say they've made something better that will take care of everything for you (The Switch)
• The Fiduciary Journey: Retirement advice will never be the same (Investment News)
• Robo-Advisor Movement Is Dying As Growth Rates Crash (Kitces)
• Why is simpler better? Ockham's Razor says that simplicity is a scientific virtue, but justifying this philosophically is strangely elusive (Aeon)
• This Bar-Brawling Lawyer Might Just Take Down Led Zeppelin (Bloomberg Businessweek)
• Study Urges CDC to Revise Count of Deaths from Medical Error (ProPublica)
• The World's Newest Major Religion: No Religion (National Geographic)
• Jared Kushner's Trump Card (Businessweek)
• Dyson Wants to Create a Hair Dryer Revolution (NY Times Mag)
• Metro sank into crisis despite decades of warnings (Washington Post)
Be sure to check out our Masters in Business interview this weekend with Charles Rotblut of the American Association of Individual Investors.
Americans' Distaste For Both Trump And Clinton Is Record-Breaking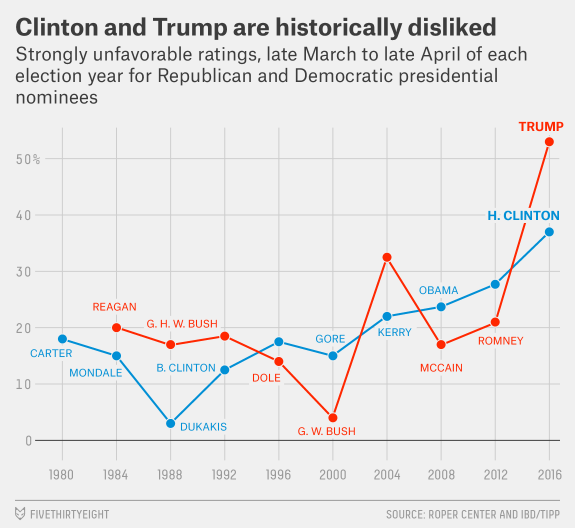 Source: fivethirtyeight