The weekend is here! Pour yourself a mug of Kicking horse coffee, grab a seat in your most comfy chair, and get ready for our longer form weekend reads:
• Make It Stop. (Boston Globe )
• Can Netflix Survive in the New World It Created? (NYT)
• Barefoot Networks' New Chips Will Transform the Tech Industry (Wired)
• The Ad Campaign that Convinced Americans to Pay for Water (Priceonomics)
• There has never been a country that should have been so rich but ended up this poor (Wonkblog)
• Why Are White People So Pessimistic About The Economy? (FiveThirtyEight)
• The State of American Retirement: How 401(k)s have failed most American workers (EPI)
• Deciding if a Financial Adviser Is Right for the Job (NYT)
• Why Peter Thiel Wants to Topple Gawker and Elect Donald Trump (NY Mag) see also The challenges in covering Trump's relentless assault on the truth (Washington Post)
• Machine Bias: There's Software Used Across the Country to Predict Future Criminals. And it's Biased Against Blacks. (ProPublica)
Be sure to check out our Masters in Business interview this weekend with 2 time Grammy winner Laurence Juber, former guitarist for Paul McCartney and Wings. 
China Spends More on Infrastructure Than the U.S. and Europe Combined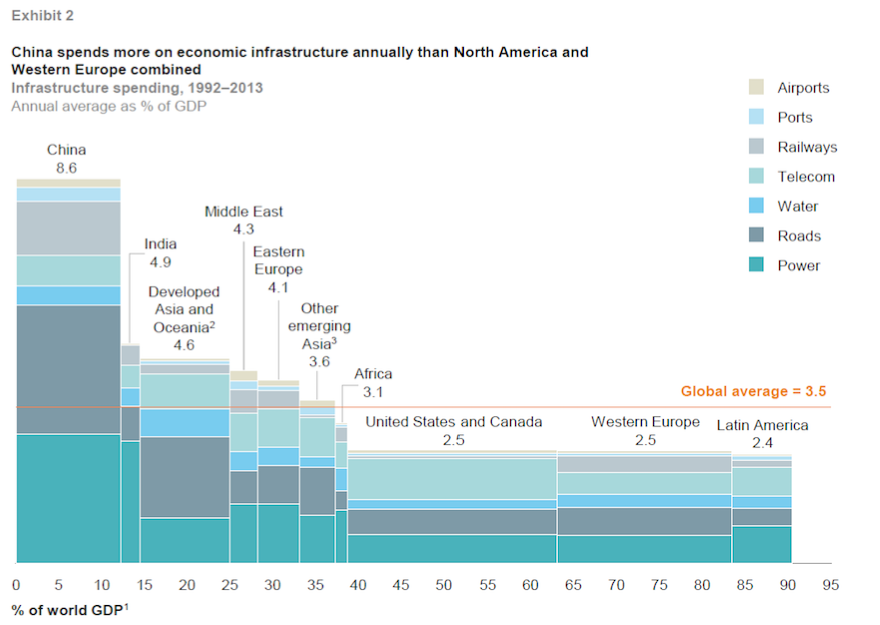 Source: Bloomberg