The weekend is here! Pour yourself a shot of Blue Mointain expresso coffee, grab a comfy swinging chair , and get ready for our longer form weekend reads:
• Evidence is Not Enough (Above the Market)
• A Surreal Life on the Precipice in Puerto Rico, whose government has effectively gone broke. (Dealbook)
• Can Contemporary Art Become Too Popular? (Big Think)
• The Superhero Genes: One scientist is on a quest to find the genetic mutations that make athletes elite — which may lead to new treatments for the rest of us. (California Sunday)
• Prospect Capital: The Enemy Within (SIRF)
• How One Journalist Uses Social Media to Get Inside the Minds of ISIS (Wired) see also 15 Years After 9/11, Is America Any Safer? (The Atlantic)
• In 2007, Trump was forced to own up to his falsehoods. And he did. Sort of. (Washington Post)
• Meet the People Who Believe the Earth Is Flat (Mic)
• This cranky rocker is taking on Spotify and the entire music streaming industry (Bloomberg)
• Inside the Fox News Bunker's subterranean newsroom, fear is everywhere. (Vanity Fair) see also CNN's Brian Stelter: Fox News Sent A Staffer To Date Me And Spy On Me Ten Years Ago (Media Matters)
Be sure to check out our Masters in Business interview this weekend with Michael Mauboussin, head of Global Financial Strategies at Credit Suisse, adjunct professor at Columbia University's school of business, and author of Untangling Luck and Skill in Sports, Business and Investing.
NAAIM Exposure Index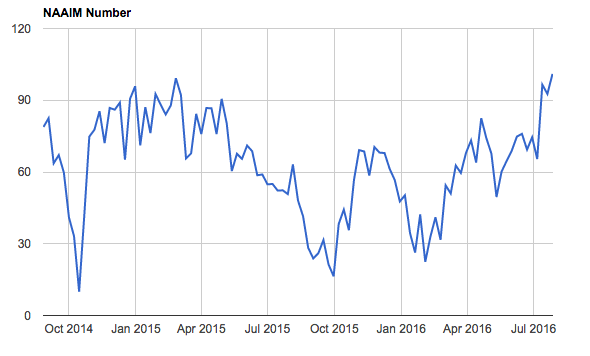 Source: National Association of Active Investment Managers