The weekend is here! Pour yourself a mug of Verona coffee, grab a seat poolside, and get ready for our longer form weekend reads:
• How Elizabeth Holmes's House of Cards Came Tumbling Down (Vanity Fair)
• Jack Bogle: The Undisputed Champion of the Long Run Vanguard's founder on 40 years of indexing success and how to invest in today's 'extremely risky world. (WSJ)
• How To Save Mankind From The New Breed Of Killer Robots (Buzzfeed)
• Homo Deus by Yuval Noah Harari – how data will destroy human freedom. It's a chilling prospect, the AI we've created could transform human nature, argues this spellbinding new book by the author of Sapiens (The Guardian)
• Horrid Facts, Stubborn Facts (Above the Market)
• Pete Wells Has His Knives Out: How the New York Times critic writes the reviews that make and break restaurants (New Yorker)
• Hidden assets, hidden costs: Breaking the story of how the rich and powerful hide their money (TLS)
• The Inside Story of How 'The Apprentice' Rescued Donald Trump (Fortune)
• Dear Mark Zuckerberg. I shall not comply with your requirement to remove this picture. (Aftenposten)
• What Killed the Jingle? Marketing ditties once had a distinctive, hokey sound, but today's advertisers have ditched them for standard pop songs. (The Atlantic)
Be sure to check out our Masters in Business interview this weekend with impact investor Matthew Weatherley-White of the Caprock Group.
S&P 500: Forward EV/EBITDA & Sales Growth Relative to Trend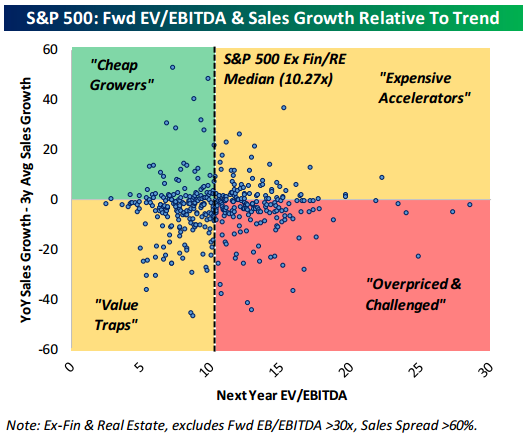 Source: Bespoke Investment Group
Want to receive our daily reads in your inbox? Sign up here!