The weekend is here! Pour yourself a mug of Italian Roast coffee, grab a seat on the hammock, and get ready for our longer form weekend reads:
• The battle between Tesla and your neighborhood car dealership (Washington Post)
• Amazon Employee #1: A conversation with Shel Kaphan, Amazon's first employee. (The Macro)
• The Next Industrial Revolution: An interview with Ryan Avent about how technology will change the labor force (The Atlantic)
• No Driver? Bring It On. How Pittsburgh Became Uber's Testing Ground (NYT)
• How the Sugar Industry Shifted Blame to Fat (NYT) see also How the sugar industry has distorted health science for more than 50 years (Vox)
• The Grubmeister: Why the future of food is will involve eating bugs (VQR)
• How to Tell If You're a Jerk: If you think everyone around you is terrible, the joke may be on you. (Nautilus)
• Bob Gilruth, the Quiet Force Behind Apollo (Air & Space)
• Unwinding a Lie: Donald Trump and 'Birtherism' (NYT) see also All of Donald Trump's Birther Tweets (Slate)
• How Texas keeps out tens of thousands of children out of special education (Houston Chronicle)
Be sure to check out this weekend's Masters in Business interview all about the music industry with rock & roll legend Steve Miller (of the Steve Miller Band).
'Safest' Shares Prove Anything But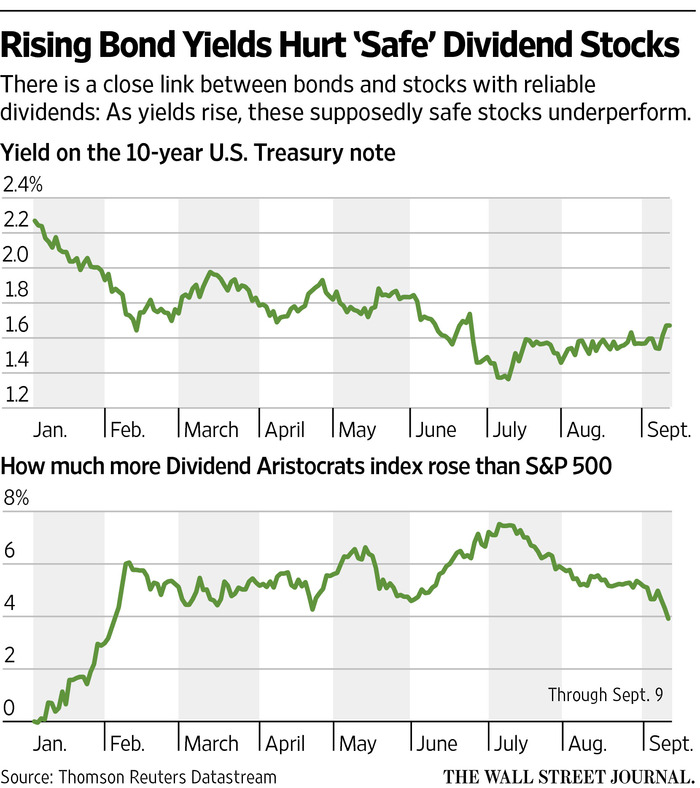 Source: WSJ
Want to receive our daily reads in your inbox? Sign up here!