Slept late, ready for a hearty breakfast of homemade buttermilk pancakes, and ready to devour these bonus day-off morning reads:
• Where to Find Yield: The best—and worst—places for income in a rising-rate world. (Barron's)
• To Be a Great Investor, Worry More About Being Wrong Than Right: There's a difference between the truth and what you think ought to be true (Wall Street Journal)
• Becoming Michael Lewis (Washington Post)
• They're Not Jamie Dimon: Few CEOs Bought Their Own Stock in '16 (Bloomberg)
• 3 Recommendations for Fund Companies Not Named Vanguard (Morningstar)
• Brain activity is too complicated for humans to decipher. Machines can decode it for us. (Vox)
• The Year in Technology: 2016 in Charts (Gadfly)
• 21 everyday phrases that come straight from Shakespeare's plays (Business Insider)
• Dave Barry's Year in Review: Trump and the 'hideous monstrosity' that was 2016 (Washington Magazine)
• I Hereby Resolve … (Bloomberg View)
What are you doing with your day off?
Current defense valuations are well above their historical average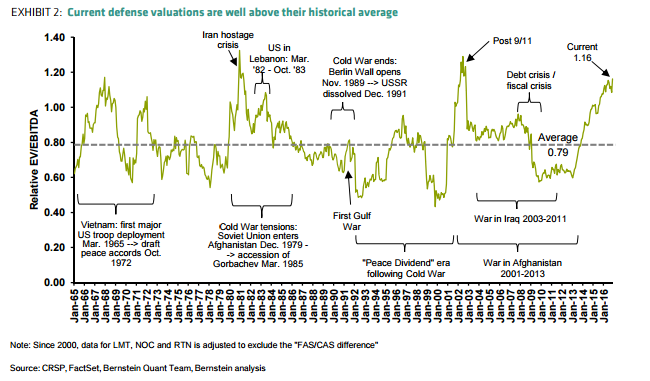 Source: MoneyBeat
'Want to receive our daily reads in your inbox? Sign up here!