The weekend is here! Pour yourself a mug of Danish blend coffee, grab a seat by the fire, and get ready for our longer form weekend reads:
• 2017: What Scientific Term of Concept Ought to Be More Widely Known? (Edge)
• The Long, Sordid History of High Fees for Low Returns (Jason Zweig)
• Liquid Assets: A maverick hedge fund manager thinks Wall Street is the answer to the water crisis in the West. (ProPublica)
• Are Commodities Still a Good Portfolio Diversifier? (Dual Momentum)
• When Big Business Happens to Your Pet: A wave of corporatization is hitting the veterinary industry, but does a one-size-fits-all approach work? (Bloomberg Businessweek)
• Moats and Podcasts (Waiter's Pad)
• Putin's Real Long Game: The world order we know is already over, and Russia is moving fast to grab the advantage. Can Trump figure out the new war in time to win it? (Politico) see also Secret CIA assessment says Russia was trying to help Trump win White House (Washington Post)
• The New Suburbia: More Urban (New York Times)
• The Crazy Story of the Professor Who Came to Stay—and Wouldn't Leave (Mother Jones)
• The Mythmaker: Thirteen years ago, reality TV producer Mark Burnett created 'The Apprentice' — and invented Donald Trump as we know him. Here, an exhaustive look at the career of a man who has redefined 21st-century pop culture and politics. (The Ringer)
Be sure to check out our Masters in Business interview this weekend with retail analyst Dana Telsey of the Telsey Advisory Group, looking at the major changes in retailing.
How Presidents Performed on the Labor Front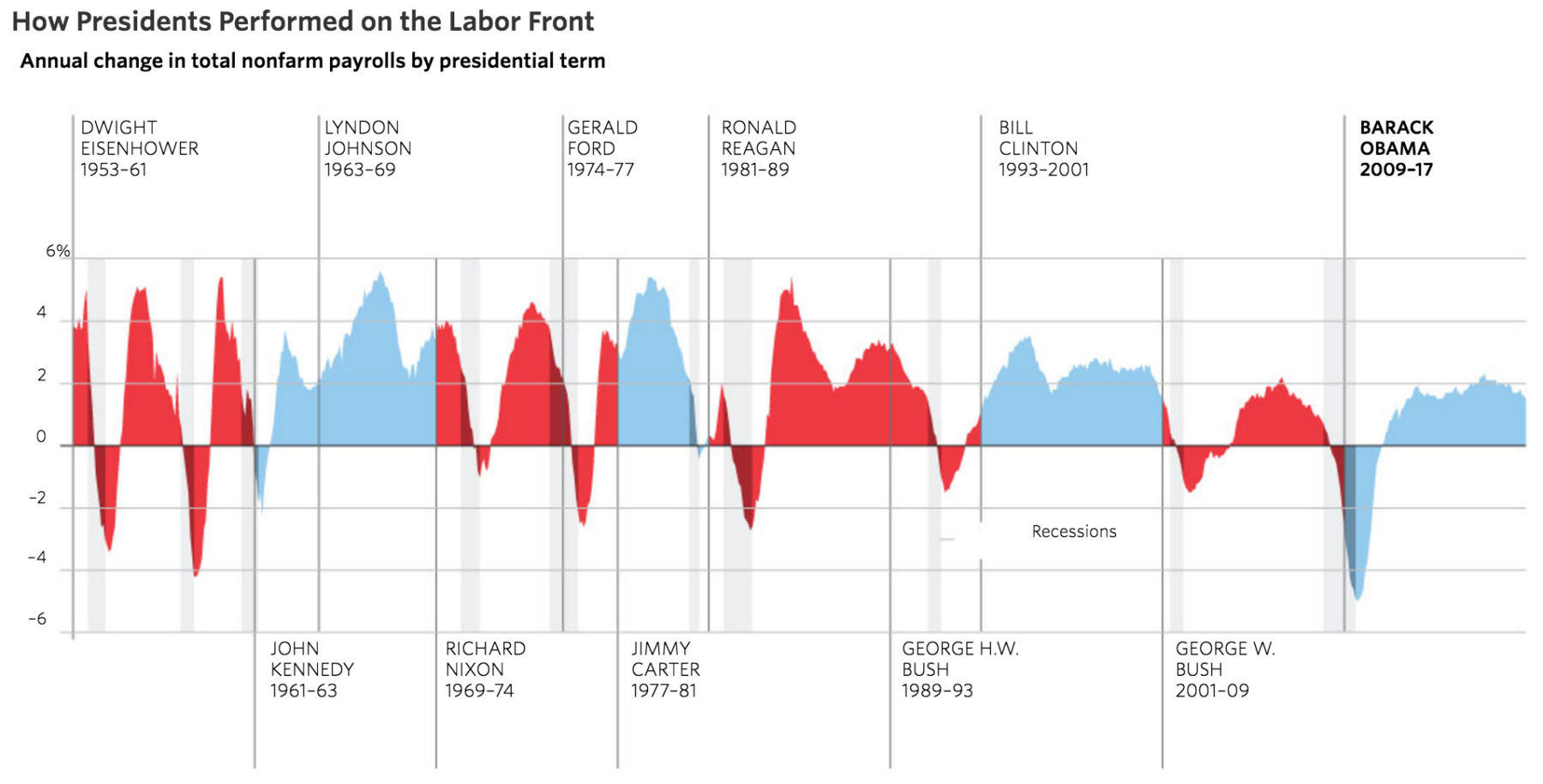 Source: WSJ
Want to receive our daily reads in your inbox? Sign up here!