My easy like Sunday morning reads:
• Oral history: Prince's life, as told by the people who knew him best (StarTribune)
• French election explained in five charts (BBC)
• Calpers Is Sick of Paying Too Much for Private Equity (Wall Street Journal)
• Weed Strains Are Mostly Bullshit (Vice) see also Public banking goes to pot (High Country News)
• How a Single Gene Could Become a Volume Knob for Pain (Wired)
• Mexico's Revenge: By antagonizing the U.S.'s neighbor to the south, Donald Trump has made the classic bully's error: He has underestimated his victim. (The Atlantic)
• Facebook and the Cost of Monopoly (Stratechery)
• 'The Ideas Made It, But I Didn't': Pat Buchanan won after all. But now he thinks it might be too late for the nation he was trying to save. (Politico)
• Tucker Carlson and Fox News After Bill O'Reilly (New Yorker)
• Conservatives hated an uppity negro golfing President (NY Daily News)
Be sure to check out our Masters in Business interview this weekend with MIT professor Andrew Lo, author of Adaptive Markets: Financial Evolution at the Speed of Thought.
Existing Home Sales (NSA)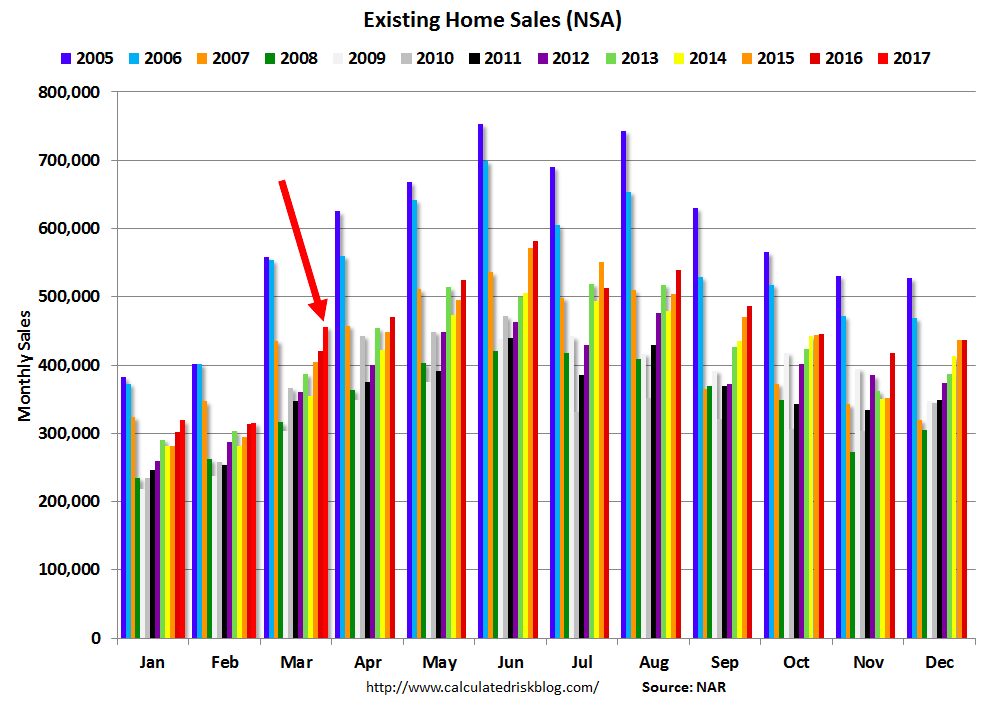 Source: Calculated Risk
Want to receive our daily reads in your inbox? Sign up here!