I am not sure if I need the "Super Deluxe Edition," but this set of 4 Audio CDs, a Blu-Ray/DVD and a 144-page hardback book looks pretty cool.
This set gets released on May 26, 2017; videos after the jump:

See also:
'Sgt. Pepper' Turns 50: The Beatles' boldest album gets an impressive anniversary reissue
Previously: Sgt Pepper at 40 Years
Click for full Amazon info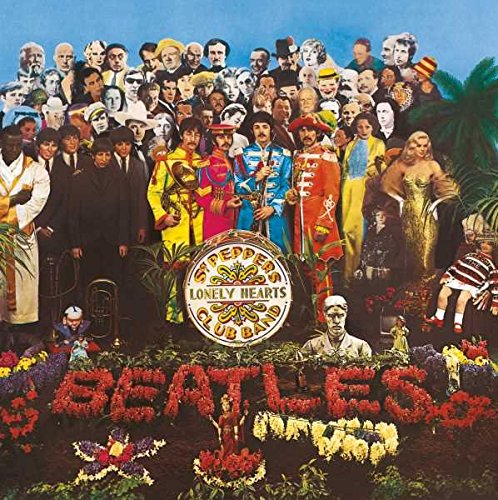 Sgt. Pepper's Lonely Hearts Club Band (Take 9 And Speech

Interview about Sgt Pepper's LP 50th anniversary with Stephen Budd on Sky News

Anniversary Edition Trailer

Here is the full backdrop:
4 Audio CDs:
A new stereo mix of the album by Giles Martin. Sgt. Pepper Sessions on 2 CDs with over 100 minutes of audio illustrating how the album was created. Newly mixed from the original four-track tapes, most of the material is previously unreleased. Also contains the original 1967 mono mix of the album and bonus tracks including three previously unreleased mixes.

Blu-Ray/DVD:
Fully restored 1992 documentary The Making of Sgt. Pepper, including interviews with Paul, George and Ringo and fascinating in-the-studio footage introduced by George Martin. Restored promotional films for 'A Day In The Life', 'Strawberry Fields Forever' and 'Penny Lane'. 2017 Giles Martin 5.1 surround sound mix and high-resolution stereo audio in 96KHz/24bit of Sgt. Pepper's Lonely Hearts Club Band plus 'Strawberry Fields Forever' and 'Penny Lane'.

144-page hardback book featuring an introduction by Sir Paul McCartney, comprehensive song-by-song details and recording information, in-depth essays about the design of the cover, the album's musical innovations and its historical context… and much more. Illustrations include photographs from the recording sessions, handwritten lyrics and Abbey Road documentation.