The weekend is here! Pour yourself a mug of Danish blend coffee, grab a seat somewhere out East, and get ready for our longer form weekend reads:
• As C.E.O. Pay Packages Grow, Top Executives Have the President's Ear (New York Times) see also Which Companies Have the Highest Revenue Per Employee? (Priceonomics)
• Full interview transcript: The cast and creators of 'Silicon Valley' on Recode Decode (Recode)
• Trust, but Verify: The Potential Problems of Blind Investing (Alpha Architect)
• When the Patient Is a Gold Mine: The Trouble With Rare-Disease Drugs (Bloomberg Businessweek)
• What is human capital? Human capital theory was invented as an ideological weapon in the Cold War. Now it is helping to Uberise the world of work (Aeon)
• 30 Behaviors That Will Make You Unstoppable (Thrive Global)
• Wanna Know What Donald Trump Is Really Thinking? Read Maggie Haberman (Elle)
• The Accusation: Katie's father went to prison for raping her and her brothers. It was an unthinkable crime that broke her family apart. So why couldn't she remember it? (Marshall Project)
• How Amanda Chantal Bacon Perfected the Celebrity Wellness Business (New York Times) see also Inner Peace (with a side of abs): These Hot L.A. Bros Are Starting a Wellness Revolution, No Beliefs Required (The Cut)
• 'SNL's' Yuuuge Year: 20 Insiders Reveal Alec Baldwin's Future as Trump, "Spicey" Secrets and Lorne Michaels' Election Pep Talk (Hollywood Reporter)
Be sure to check out our Masters in Business interview this weekend with Brian Greene, Superstring theorist, who runs the Institute for Theoretical Physics at Columbia University, is organizer of New York City's World Science Festival (10th annual begins this weekend) and is the author of numerous books on Cosmology, including The Elegant Universe: Superstrings, Hidden Dimensions, and the Quest for the Ultimate Theory.
US Catholics, non-Catholics, continue to view Pope Francis favorably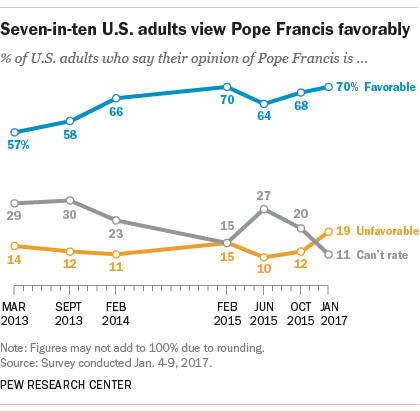 Source: Pew Research
Want to receive our daily reads in your inbox? Sign up here!