My easy like Sunday morning reads:
• Connecticut governor signs bill to improve 403(b) plan fee transparency (Investment News)
• Investing Successfully is Really Hard (Above the Market) (PDF)
• Just Like That, a Bad Year for Buybacks Becomes a Good One (Bloomberg)
• EBI West — my conference diary (Evidence Based Investor)
• Climate Change to Damage U.S. Economy, Increase Inequality (Science and Technology Research News)
• Stop Assuming Trump Is Innocent of Russian Collusion (New York Magazine)
• The NRA recruitment video that is even upsetting gun owners (Washington Post)
• Photographer Breaks 43 Of The Most Ridiculous Laws In America, And It's Hilarious (Bored Panda)
• 10 creatures that can ruin your day at the beach (Washington Post)
• You're grilling it wrong: Top chefs on the worst mistakes they see at every cookout (Salon)
Be sure to check out our Masters in Business interview this weekend with Chris Anderson, former editor-in-chief of Wired, founder of 3D Robotics, and author of the Long Tail.
US Image Suffers as Public Around the World Question Trump's Leadership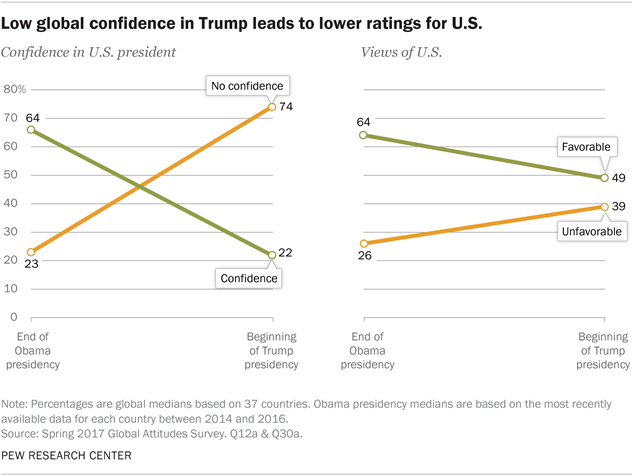 Source: Pew Research
Want to receive our daily reads in your inbox? Sign up here!