My easy like Sunday morning reads:
• The Robot Revolution Is Coming. Just Be Patient. (BloombergView)
• This Market Isn't Ready to Surrender (Barron's)
• Data Suggests Women Are Better (Behaved) Investors (Betterment)
• 5 Flaws That Kill Student Loan Collection Lawsuits (New York Times)
• Inside Google's Struggle to Filter Lies from Breaking News (BloombergTechnology) see also Google Has Picked an Answer for You—Too Bad It's Often Wrong (Wall Street Journal)
• How Cutting Taxes Makes Life Worse for the Rich. (New York Times)
• The U.S. Flooded One of Houston's Richest Neighborhoods to Save Everyone Else (BloombergBusinessweek)
• A Lazy Person's Guide to Happiness (The Atlantic)
• Fox News Is Creating a Fictional Version of President Trump That Never Existed (GQ)
• 11 Beloved Movies That Were Box Office Flops (Mental Floss)
Be sure to check out our Masters in Business interview this weekend with Greg Sands, founder of Costanoa Ventures. Sands was the first product manager at Netscape Communications, where he wrote the initial business plan and coined the name "Netscape."
AAII Investor Sentiment Survey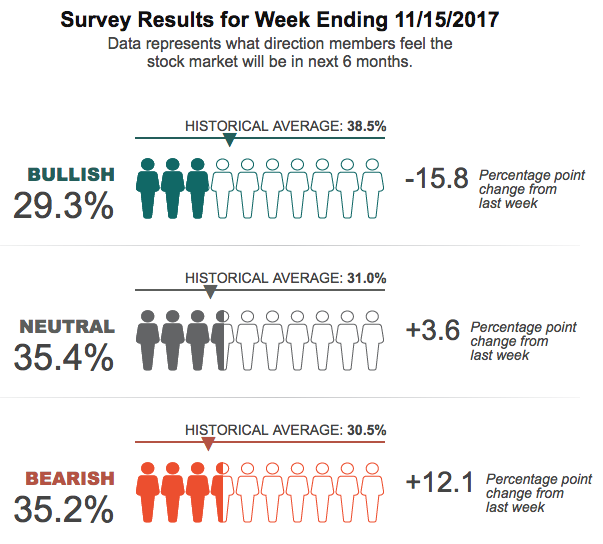 Source: AAII
Want to receive our daily reads in your inbox? Sign up here!