The weekend is here! Pour yourself a mug of Guatemala Antigua coffee, grab a seat by the fire, and get ready for our longer form weekend reads:
• Elon Musk, Architect of Tomorrow: Inside the inventor's world-changing plans to inhabit outer space, revolutionize high-speed transportation, reinvent cars (Rolling Stone)
• The Cause and Consequences of the Retail Apocalypse (New Republic)
• Michael Lewis: Inside Trump's Cruel Campaign Against the U.S.D.A.'s Scientists (Vanity Fair)
• Security Breach and Spilled Secrets Have Shaken the N.S.A. to Its Core: A serial leak of the agency's cyberweapons has damaged morale, slowed intelligence operations and resulted in hacking attacks on businesses and civilians (New York Times)
• Interview with Nobel economics laureate Jean Tirole in London (Independent)
• Bouvier Affair: How an art-world insider made a fortune by being discreet. (The New Yorker)
• Undraining the Swamp: Florida is trying to undo decades of damage to the Everglades. (Vice)
• Kim Jong Un's North Korea: Life inside the totalitarian state. Recent North Korean escapees relate how the secretive country has changed under the "Great Successor." (Washington Post)
• Meet Doug Jones, One Of The Biggest Movie Stars You've Probably Never Seen (Buzzfeed)
• Colin Kaepernick Will Not Be Silenced (GQ) see also Roger Goodell has a Jerry Jones problem and nobody knows how it will end (ESPN)
Be sure to check out our Masters in Business interview this weekend with Greg Sands, founder of Costanoa Ventures. Sands was the first product manager at Netscape Communications, where he wrote the initial business plan and coined the name "Netscape."
The Skills Leaders Need at Every Level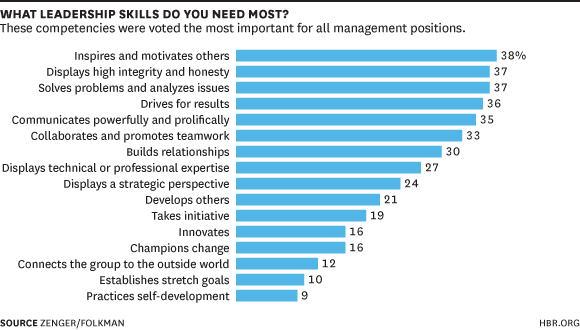 Source: Harvard Business Review

Want to receive our daily reads in your inbox? Sign up here!