The weekend is here! Pour yourself a mug of Peaberry Whole Bean Kauai Coffee coffee, grab a seat by the fire, and get ready for our longer form weekend reads:
• Gay on Wall Street (Institutional Investor)
• Jim Simons, the Numbers King: Algorithms made him a Wall Street billionaire. His new research center helps scientists mine data for the common good. (New Yorker)
• The Human Cost of the Ghost Economy (Longreads)
• The Little Blue Pill: An Oral History of Viagra (Bloomberg)
• Inside Elliott Management: How Paul Singer's Hedge Fund Always Wins (Fortune)
• Revealed: The Secrets Of One Of The World's Dirtiest Banks And Its Powerful Western Protectors (Buzzfeed)
• Police shoot more than twice as many Americans as previously understood (Vice)
• "Secret" Driver of US Health Care Costs: Politicians Wanting to Get Reelected (ProMarket)
• Google's true origin partly lies in CIA and NSA research grants for mass surveillance (Quartz)
• Why Garbage Science Gets Published (Nautilus)
Be sure to check out our Masters in Business interview this weekend with Jeffrey Sherman, Deputy Chief Investment Officer and member of the Executive Committees at Doubleline Capital.
How Honest is Your Resume? (Probably Not Very)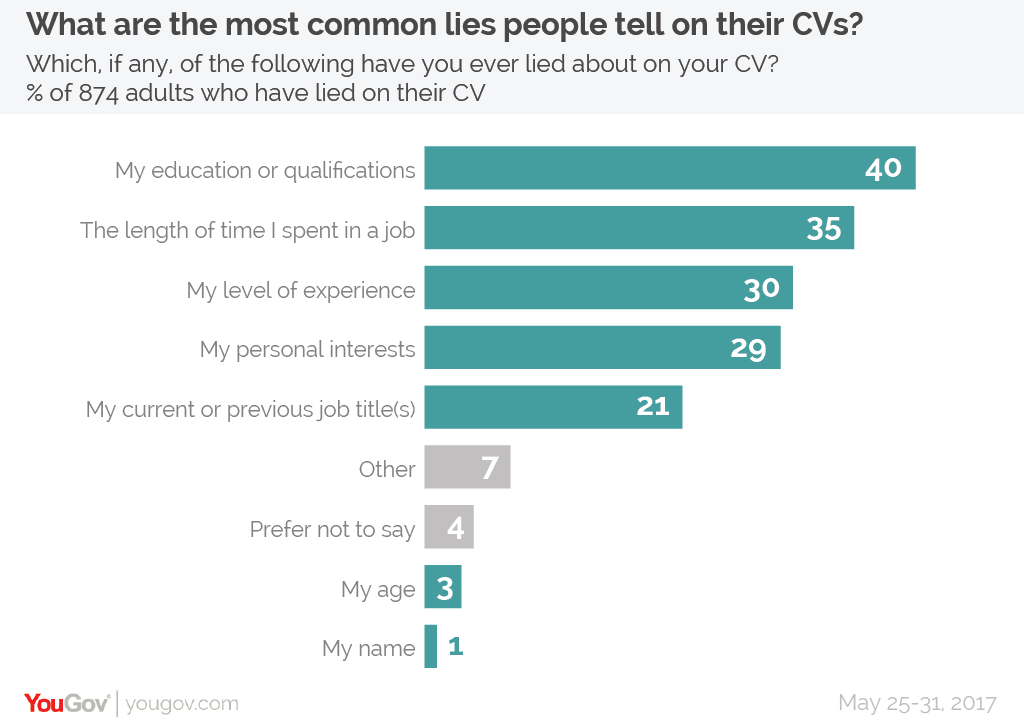 Source: YouGov
Want to receive our daily reads in your inbox? Sign up here!