The weekend is here! Pour yourself a mug of French Roast coffee, grab a seat on the love seat, and get ready for our longer form weekend reads:
• The Rockefellers vs. the Company That Made Them Rockefellers: The family that pioneered the oil industry in America wants to expose what Exxon hid from the public about climate change. (New York)
• The Strange Brands in Your Instagram Feed (Atlantic) see also How Car Companies Decide You'll Ride a Mustang or Catch a Tiguan (New York Times)
• Terry Gross on the Art of the Q&A and the Guest That Most Surprised Her (Vulture)
• This Army of AI Robots Will Feed the World And it could do it while eliminating herbicides, replenishing topsoil, and reducing carbon consumption. If all goes to plan (Bloomberg BusinessWeek)
• A Chinese Empire Reborn: The Communist Party's emerging empire is more the result of force than a gravitational pull of Chinese ideas (New York Times)
•  On the Decision to Publish the Largest Leak in the History of American Power (Lit Hub)
• We've Been Told We're Living in a Post-Truth Age. Don't Believe It. (Slate) see also "Fire And Fury" Is The First Book Of The Post-Truth Social Media Era (Buzzfeed)
• Heartland Democrats to Washington: "You're Killing Us" New report blames elitist national party for alienating vast swaths of once reliable voters. If the party doesn't win them back, it could spell disaster in 2020. (Politico)
• Inside the Amish town that builds U2, Lady Gaga, and Taylor Swift's live shows (Wired)
• Quentin Richardson: Letter to My Younger Self (Players Tribune)
Be sure to check out our Masters in Business interview this weekend with Brooke Lampley, vice chairman of the fine art division at Sotheby's. Lampley is a specialist in Impressionist and modern art, and previously ran that department at Christie's, where she sold over a billion dollars of paintings and sculptures.
Irrationality of Drug Laws in One Chart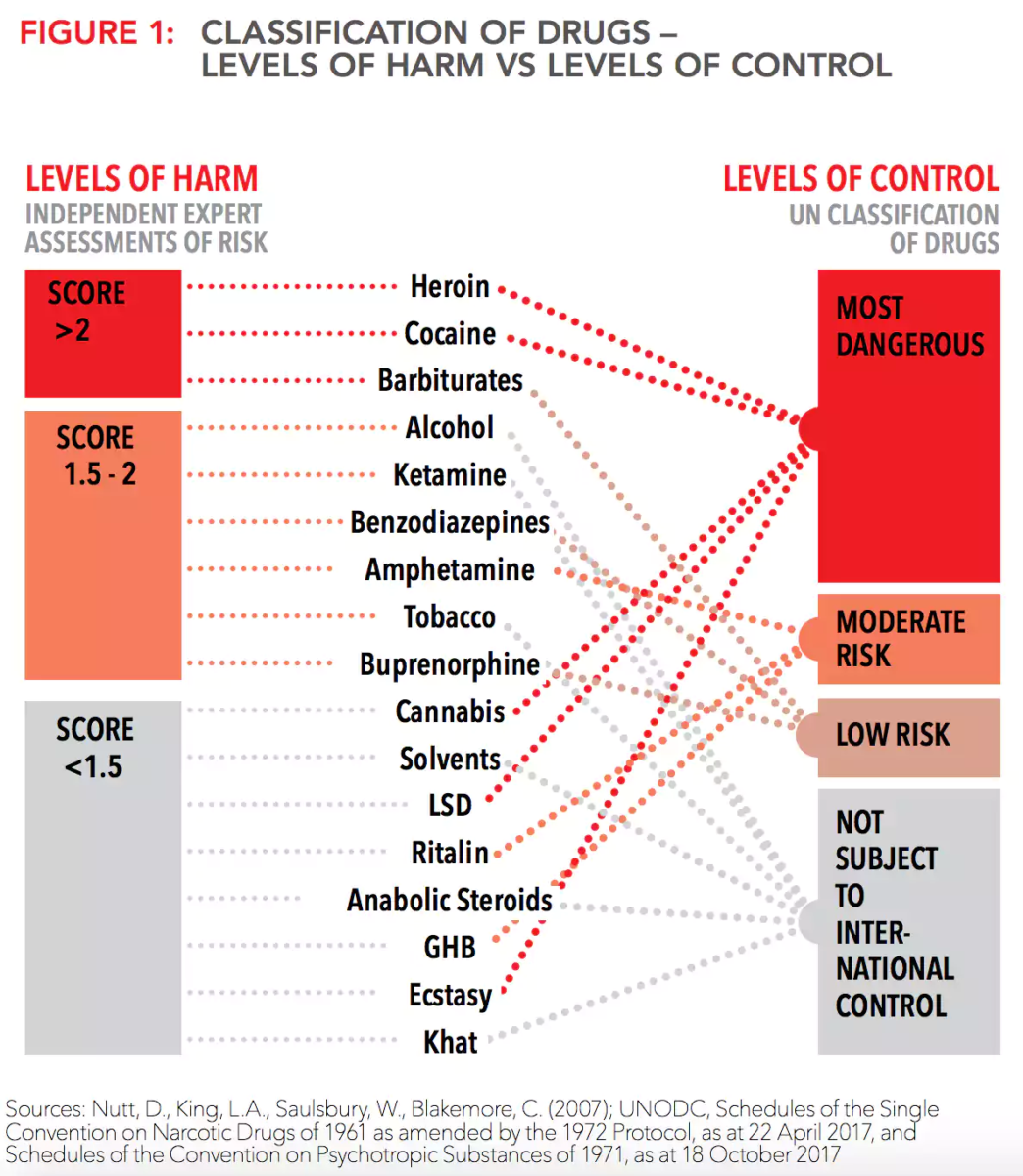 Source: Wonkblog
Want to receive our daily reads in your inbox? Sign up here!