The weekend is here! Pour yourself a mug of Peaberry coffee, grab a seat by the fire, and get ready for our longer form weekend reads:
• Financial Engineers Killed the Art of Investing (Institutional Investor)
• Sriracha is for closers: Does Anyone Actually Work at WeWork? (Esquire)
• A Kingdom from Dust: In California, the biggest farmer in the United States has a water problem (California Sunday)
• The Mind Meld of Bill Gates and Steven Pinker (New York Times)
• How to Not Die in America (Splinter)
• LOL Something Matters: We've been told that facts have lost their power, that debunking lies only makes them stronger, and that the internet divides us. Don't believe any of it. (Slate)
• Paul Manafort, American Hustler (The Atlantic)
• The Beasts That Keep the Beat: New insights from neuroscience — aided by a small zoo's worth of dancing animals — are revealing the biological origins of rhythm.(Quanta)
• "Berserkazoid Craziness": The Mooch Recalls His 10 Days in the Swamp (Vanity Fair)
• Four ethicists walk into a Super Bowl party… (The Outline)
Be sure to check out our Masters in Business interview this weekend with Constance Hunter, chief economist of KPMG. She is a past board member of the National Association for Business Economics (NABE) and a member of 100 Women in Hedge Funds.
Stockpickers' fees set to suffer from ETF price war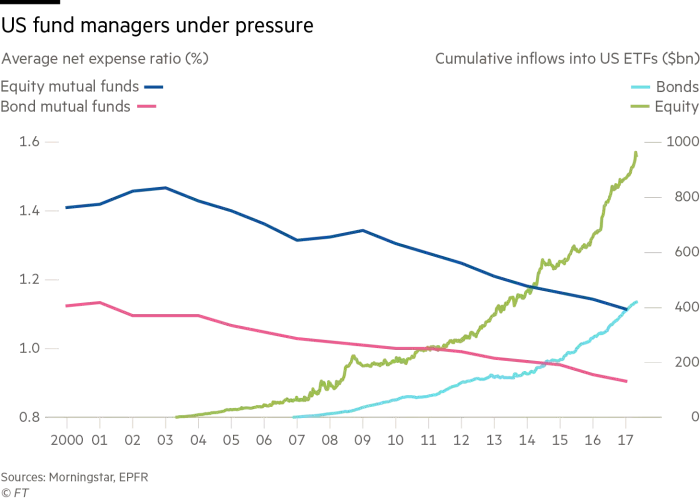 Source: Financial Times
Want to receive our daily reads in your inbox? Sign up here!