The weekend is here! Pour yourself a mug of Stumptown coffee, grab a seat in the sun(!?), and get ready for our longer form weekend reads:
• Private Equity: Overvalued and Overrated? (American Affairs Journal)
• Nathan Myhrvold, myth buster: He was the physicist who went to Microsoft and made his fortune. These days he's a tycoon, philanthropist, dino-hunter and bestselling author (1843)
• What's Behind One of the Biggest Financial Scams in History? (Knowledge@Wharton)
• Why people collect art: Collectors drive the art world, but what drives art collectors? It's less about aesthetics than self-identification (Aeon)
• The Most Expensive Comment in Internet History? (The Atlantic) see also This Is The Man Who Helped Peter Thiel Demolish Gawker (Buzzfeed)
• The Case Against Google: Critics say the search giant is squelching competition before it begins. Should the government step in? (New York Times)
• Mueller and Trump: Born to wealth, raised to lead. Then, sharply different choices. (Washington Post)
• The Smearing of Christopher Steele (Politico)
• Why Silicon Valley billionaires are prepping for the apocalypse in New Zealand (Guardian)
• What Ever Happened To Brendan Fraser? (GQ)
Be sure to check out our Masters in Business interview this weekend with Pimco's Jerome Schneider, head of short-term portfolio management and funding, and Morningstar Fixed-Income Fund Manager of the Year (U.S. 2015).
Long Before U.S. Election, Russian Trolls Were Spreading Disinformation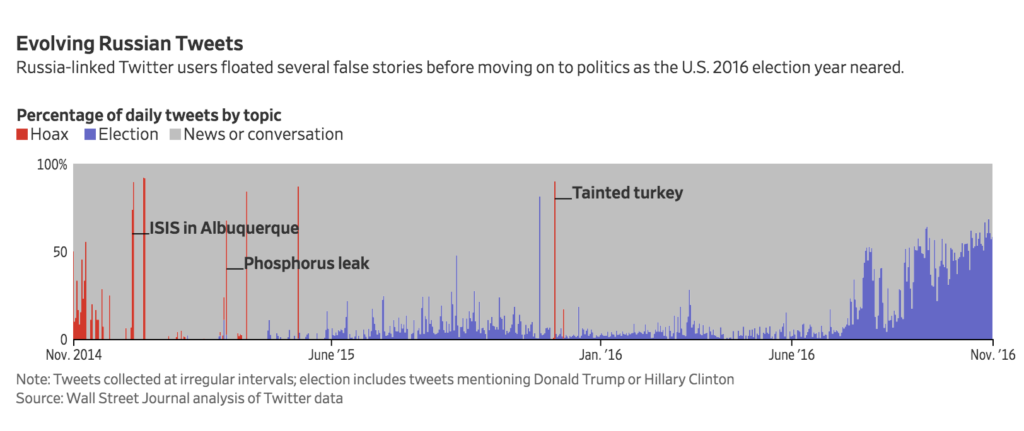 Source: Wall Street Journal
Want to receive our daily reads in your inbox? Sign up here!