The weekend is here! Pour yourself a mug of Seattle's Best Coffee coffee, grab a seat by the pool, and get ready for our longer form weekend reads:
• Looking for Life on a Flat Earth: What a burgeoning movement says about science, solace, and how a theory (New Yorker)
• How to Succeed in Advertising and Transform the Internet While You're At It (New York Magazine)
• Why we should bulldoze the business school (The Guardian)
• In Britain, Austerity Is Changing Everything (New York Times)
• How an immigrant with $20 to his name redefined the NYC luxury apartment (New York Post)
• The Tower (London Review of Books)
• Your Next Glass of Wine Might Be a Fake—and You'll Love It (Wired)
• Why the Alt-Right Thinks Porn is a Jewish Conspiracy (Mel) see also Inside the Pro-Trump Effort to Keep Black Voters From the Polls (Bloomberg)
• UFOs are suddenly a serious news story. You can thank the guy from Blink-182 for that. (Washington Post)
• Growing Up With Steve Miller (Texas Monthly)
Be sure to check out our Masters in Business interview this weekend with Libby Cantrill, managing director and head of public policy at PIMCO, where she analyzes political events for the firm's investment committee, and coordinates the firm's response to policy issues.
92 consecutive months of gains in US payrolls, the longest continuous stretch since records began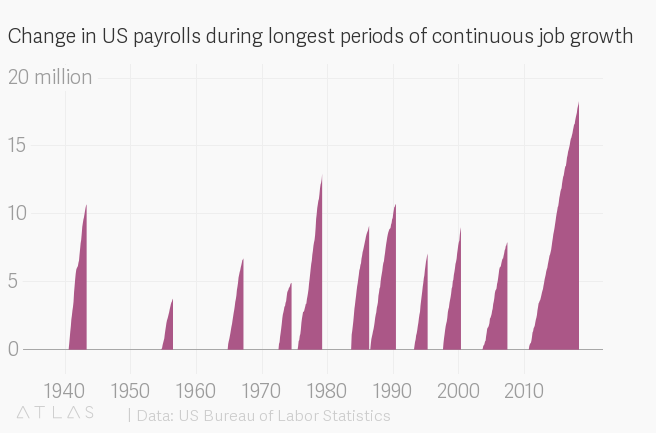 Source: Quartz
Want to receive our daily reads in your inbox? Sign up here!