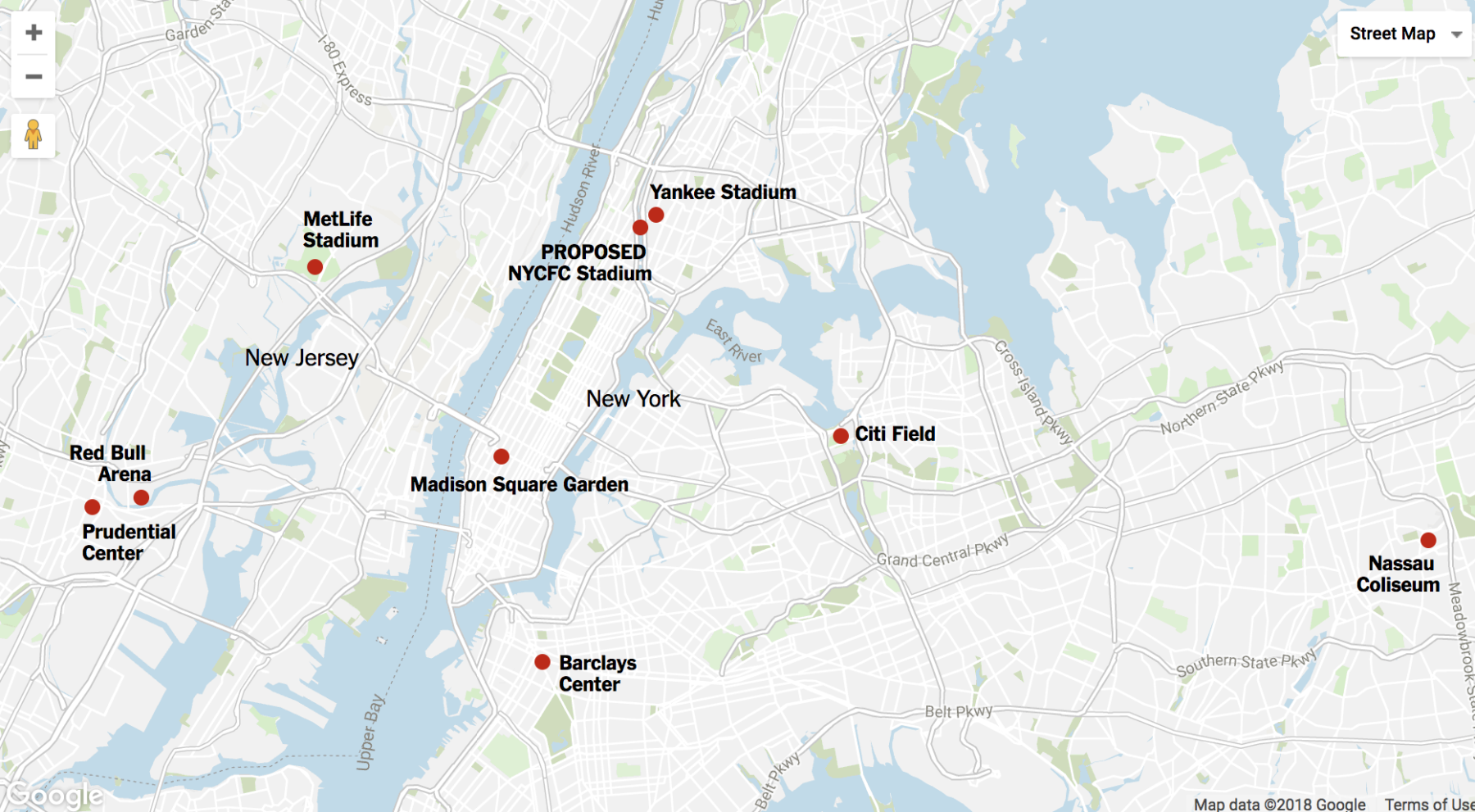 Source: New York Times
Via the NYT, this is a simply mind-blowing stat:
"New York area is one of the most crowded regions in the country when it comes to stadiums and arenas. A soccer stadium in the Bronx or Queens and two arenas proposed for Long Island would bring the total to five stadiums and six arenas within 60 miles of Madison Square Garden, with a combined 335,271 seats for basketball, hockey, football, soccer and baseball teams."
My takeaway from this data point is as follows:
1. There is intense competition for the sports entertainment dollars of residents of municipalities where most sports stadiums are located;

2. Teams (and their owners) are extremely wealthy businesses who can easily afford to build their own facilities. Tax-payer funded stadiums are exercises in crony capitalism, collectivism, or worse;

3. Taxpayer funded subsidies take successful for profit businesses and pad their profits at the expense of ordinary taxpayers.

4.  These are valuable businesses that require no additional incentives to sell their goods and services.

5. These wasteful subsidies have demonstrated little if any positive economic impact on the municipalities and states.
More on this next week . . .
See also:
John Oliver on Taxpayer Funded Stadiums
The Economics of Subsidizing Sports Stadiums
Wait, We Paid How Much for This Place?
Abandoned NFL cities have old stadium debt, new outlooks
EVALUATING SUBSIDIES FOR PROFESSIONAL SPORTS IN THE UNITED STATES AND EUROPE: A PUBLIC-SECTOR PRIMER
Rip down Qualcomm and build new stadium? Stupidity squared
7 Things We Could Have Spent $12 Billion On Instead Of New Sports Stadiums
HBO's John Oliver rails against the boondoggle of taxpayer-financed stadiums
http://college.holycross.edu/RePEc/spe/CoatesHumphreys_LitReview.pdf
Working paper on stadium funding: http://college.holycross.edu/RePEc/hcx/Matheson-Baade_FinancingSports.pdf
St. Louis Fed analysis on tax-payer funded stadiums: https://www.stlouisfed.org/Publications/Regional-Economist/April-2001/Should-Cities-Pay-for-Sports-Facilities
Throughts by famed sports economist Andrew Zimbalist: http://freakonomics.com/2009/01/09/questions-for-sports-economist-andrew-zimbalist/
Americans for Prosperity is against subsidizing stadiums: http://americansforprosperity.org/florida/article/the-true-economics-of-taxpayer-funded-stadiums/
Datasets on the costs of stadiums: http://web.archive.org/web/20070706222247/http://policy.rutgers.edu/faculty/long.html
Political Score Card for Tax-Payer Funded Stadiums: http://jss.sagepub.com/content/26/3/248.short
General Policy and Research on Tax-Payer Funded Stadiums: https://www.heartland.org/policy-documents/research-commentary-taxpayer-funding-sports-facilities
Obama called for end to Tax-Payer Funded Stadiums in recent budget: http://www.usatoday.com/story/news/politics/2015/03/16/stateline-obama-proposal-taxpayer-subsidized-sports-stadiums/24845355/
Academic writing for a general audience on stadium subsidies: https://www.heartland.org/sites/default/files/4.pdf
Freakonomics analysis: http://freakonomics.com/2012/03/13/how-the-nba-takes-money-from-people-who-don%E2%80%99t-like-basketball/
Press Links:
NPR, Stop the Subsidy Sucking Sports Stadiums: http://www.npr.org/2011/08/05/139018592/the-nation-stop-the-subsidy-sucking-sports-stadiums
The Atlantic, Overview highlighting the risk that the team is unpopular http://www.theatlantic.com/business/archive/2012/09/if-you-build-it-they-might-not-come-the-risky-economics-of-sports-stadiums/260900/
CNN, History of Tax-Payer Funded Stadiums: http://money.cnn.com/2015/01/30/news/companies/nfl-taxpayers/
Huffington Post, Benefits Do Not Outweigh the Risks: http://www.huffingtonpost.com/entry/taxpayers-nfl-stadiums_55f08313e4b002d5c077b8ac
The Atlantic, How the NFL Fleeces Tax-Payers: http://www.theatlantic.com/magazine/archive/2013/10/how-the-nfl-fleeces-taxpayers/309448/
Bloomberg, In Stadium Building Spree, Taxpayers lose $4 Billion: http://www.bloomberg.com/news/articles/2012-09-05/in-stadium-building-spree-u-s-taxpayers-lose-4-billion
Forbes, Publicly Financed Sports Stadiums are a Game Taxpayers Lose: http://www.forbes.com/sites/jeffreydorfman/2015/01/31/publicly-financed-sports-stadiums-are-a-game-that-taxpayers-lose/
Wall Street Journal, Use of Taxpayer Money for Pro-Sports Arenas drawn fresh scrutiny: http://www.wsj.com/articles/use-of-taxpayer-money-for-pro-sports-arenas-draws-fresh-scrutiny-1425856677
New York Times, The High Cost and Low Benefit of Sports Subsidies: http://www.nytimes.com/2002/01/10/business/10SCEN.html?pagewanted=all
TIME, Football a Waste of Taxpayer Money: http://ideas.time.com/2013/12/06/football-a-waste-of-taxpayers-money/
Economic Development:
Chapter 5 Discusses the myth that stadiums bring in more people: https://books.google.com/books?hl=en&lr=&id=mmJ-caqN7ywC&oi=fnd&pg=PR3&dq=taxpayer+funded+stadiums&ots=2JGOb6mGEh&sig=DvJOLZNJIwqAUwm1Clwe3DfsdB8#v=onepage&q=taxpayer%20funded%20stadiums&f=false
Stadiums are poor investments of public money: http://www.psmag.com/business-economics/america-has-a-stadium-problem-62665
Typically sports stadiums do not spur economic activity: http://www.aei.org/publication/a-closer-look-at-stadium-subsidies/
Stadiums and franchises are ineffective means to creating local economic development, whether that is measured as income or job growth: http://onlinelibrary.wiley.com/doi/10.1111/j.1465-7287.2007.00073.x/abstract
Impact of sports facilities on urban economic development: http://economics.umbc.edu/files/2014/09/wp_03_103.pdf
Stadiums don't bolster economies, scholars say: http://news.illinois.edu/NEWS/04/1117stadiums.html
Are Sports Stadiums Good for Economic Development: https://thesupportcenter-nc.org/news/economy/are-sports-stadiums-good-for-economic-development
If you Build It, They Might Not Come: The Risky Economics of Sports Stadiums: http://www.theatlantic.com/business/archive/2012/09/if-you-build-it-they-might-not-come-the-risky-economics-of-sports-stadiums/260900/
Sports, Jobs, & Taxes: Are New Stadiums Worth the Cost? http://www.brookings.edu/research/articles/1997/06/summer-taxes-noll
Taxpayers Beware, bidding wars for NFL Teams are losing bets: http://www.brookings.edu/blogs/up-front/posts/2015/05/18-taxpayers-lose-bidding-wars-nfl-teams
The Economics of Sports Facilities, and their Communities: http://www.csus.edu/indiv/h/howellj/econ145_s2009/Assignments/SportsStadiumFunding.pdf
Publicly Funded Stadiums Add Little to Local Economy, Report Says: http://www.jsonline.com/news/milwaukee/publicly-funded-sports-arenas-add-little-to-local-economy-report-says-cc9ehcj-201706591.html
Funding Mechanisms:
Hotel Taxes for Funding Stadiums: http://crawl.prod.proquest.com.s3.amazonaws.com/fpcache/a71859cbc6539630008e782ec08570a9.pdf?AWSAccessKeyId=AKIAJF7V7KNV2KKY2NUQ&Expires=1446163452&Signature=4lKjdQlJdXg052%2FlgzjhjKMB%2F%2Bo%3D
Evaluating Subsidies of Tax-Payer Funded Stadiums: http://oxrep.oxfordjournals.org/content/19/4/585.short
The Efficacy of Public Subsidies in the Success of Professional Sports Stadiums: https://www.heartland.org/sites/default/files/take_me_out_of_the_ball_game-_the_efficacy_of_public_subsidies_in.pdf
Case Studies from Other Cities:
Minneapolis: https://www.minnpost.com/community-voices/2011/02/dumb-and-dumber-folly-taxpayer-handouts-professional-sports
Profiles of 6 Different Cities: http://www.citylab.com/politics/2015/09/the-never-ending-stadium-boondoggle/403666/
Washington DC: http://www.dcfpi.org/would-a-publicly-financed-baseball-stadium-pay-off-for-dc-economic-research-suggests-the-answer-is-no
Impacts on Low-Income Communities and Communities of Color:
Impacts of four stadiums on Black populations in Atlanta: http://www.alternet.org/economy/black-communities-destroyed-publicly-funded-stadium-swindles-are-fighting-back-new-era
When Publicly Funded Stadiums Gut Neighborhoods: http://www.planetizen.com/node/81100/when-publicly-funded-stadiums-gut-neighborhoods
Research on Benefits of Stadiums that is Not Commissioned by the NFL or Team Owners:
Philly Fed: https://www.philadelphiafed.org/-/media/research-and-data/publications/business-review/2004/q2/brq204jc.pdf?la=en
KC Fed: https://www.kansascityfed.org/~/media/files/publicat/econrev/econrevarchive/2001/1q01rapp.pdf?la=en
In Defense of Publicly Subsidized Stadiums: http://scholarship.law.marquette.edu/cgi/viewcontent.cgi?article=1467&context=sportslaw