The weekend is here! Pour yourself a mug of Komodo Blend coffee, call shotgun for the ride tot he beach, and get ready for our longer form weekend reads:
• How Big Tech Swallowed Seattle: Two tech titans made billions and remade the city. Is it any better off?  (BusinessWeek)
• Where Will The Next Crisis Come From? (Schwab)
• Who needs democracy when you have data? (MIT Technology Review)
• How Bill Browder Became Russia's Most Wanted Man: The hedge-fund manager has offered a fable for why the West should confront Putin.  (New Yorker)
• And the Waters Will Prevail: What if Houston's survival depends not just on withstanding a flood, but on giving in to it? (Slate)
• Every Generation Gets the Beach Villain It Deserves: Aggressive, shameless, obsessive and optimistic, the tech billionaire Vinod Khosla is willing to litigate the California coast for the rest of his life.  (New York Times)
• The New Reading Environment (N Plus One)
• Inside Stephen Miller's hostile takeover of immigration policy (Politico)
• Stormy Daniels Isn't Backing Down (Vogue)
• Brash, Confident and Democratic: How Leonard Bernstein Symbolized America (New York Times) see also The Sounds of Music in the Twenty-first Century (New Yorker)
Be sure to check out our Masters in Business interview this weekend with Eldon Scott, president of UrbanSpace, a company specializing in creating artisan food halls and holiday gift venues. UrbanSpace was founded in 1972 in the U.K., and in New York in 1993. The firm is in the early stages of U.S expansion, looking at Chicago and the West Coast.
Get Ready for Most Cryptocurrencies to Hit Zero, Goldman Says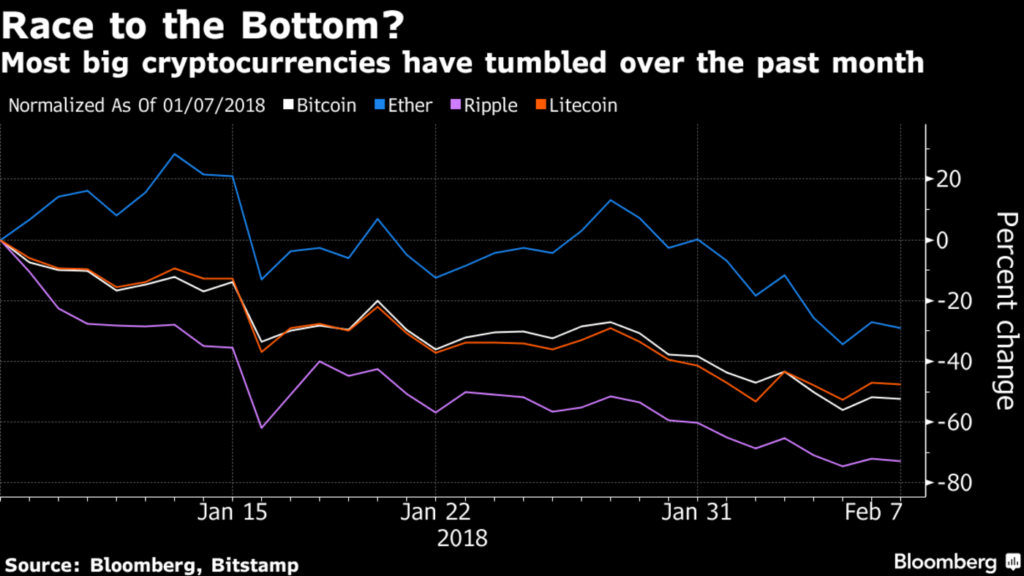 Source: Bloomberg
Want to receive our daily reads in your inbox? Sign up here!