The weekend is here! Pour yourself a mug of Danish Blend coffee, grab a seat by the fire, and get ready for our longer form weekend reads:
• ETFs In Chaos: Shock Absorbers (ETF.com)
• The beasts of Silicon Valley (Quartz) see also Tech C.E.O.s Are in Love With Their Principal Doomsayer (New York Times)
• The World's Art Factory Is in Jeopardy (Artsy)
• The Irresistible Urge to Build Cities From Scratch (Bloomberg Businessweek)
• Why HBO Needs to Grow (The Future of HBO) (Redef)
• How the race between Ted Cruz and Beto O'Rourke became the closest in Texas in 40 years (Texas Tribune)
• Meditation in the Time of Disruption (Ringer)
• Rebirth of a Nation: Can states' rights save us from a second civil war? (Harper's)
• U.S. Law Enforcement Failed to See the Threat of White Nationalism. Now They Don't Know How to Stop It. (New York Times) see also School-Shooting Survivors Bear Their Scars, and Bear Witness (New York Magazine)
• Pressing Forward: David Stern Is Not Looking Back (Sports Illustrated)
Be sure to check out our Masters in Business interview this weekend with Ray Dalio, founder, co-chairman and co-chief investment officer of the world's largest hedge fund, Bridgewater Associates. Dalio's new book on the history of financial crises, Big Debt Crises, was published this month.
Cigarette use among American adults reaches all time low (1965-Present)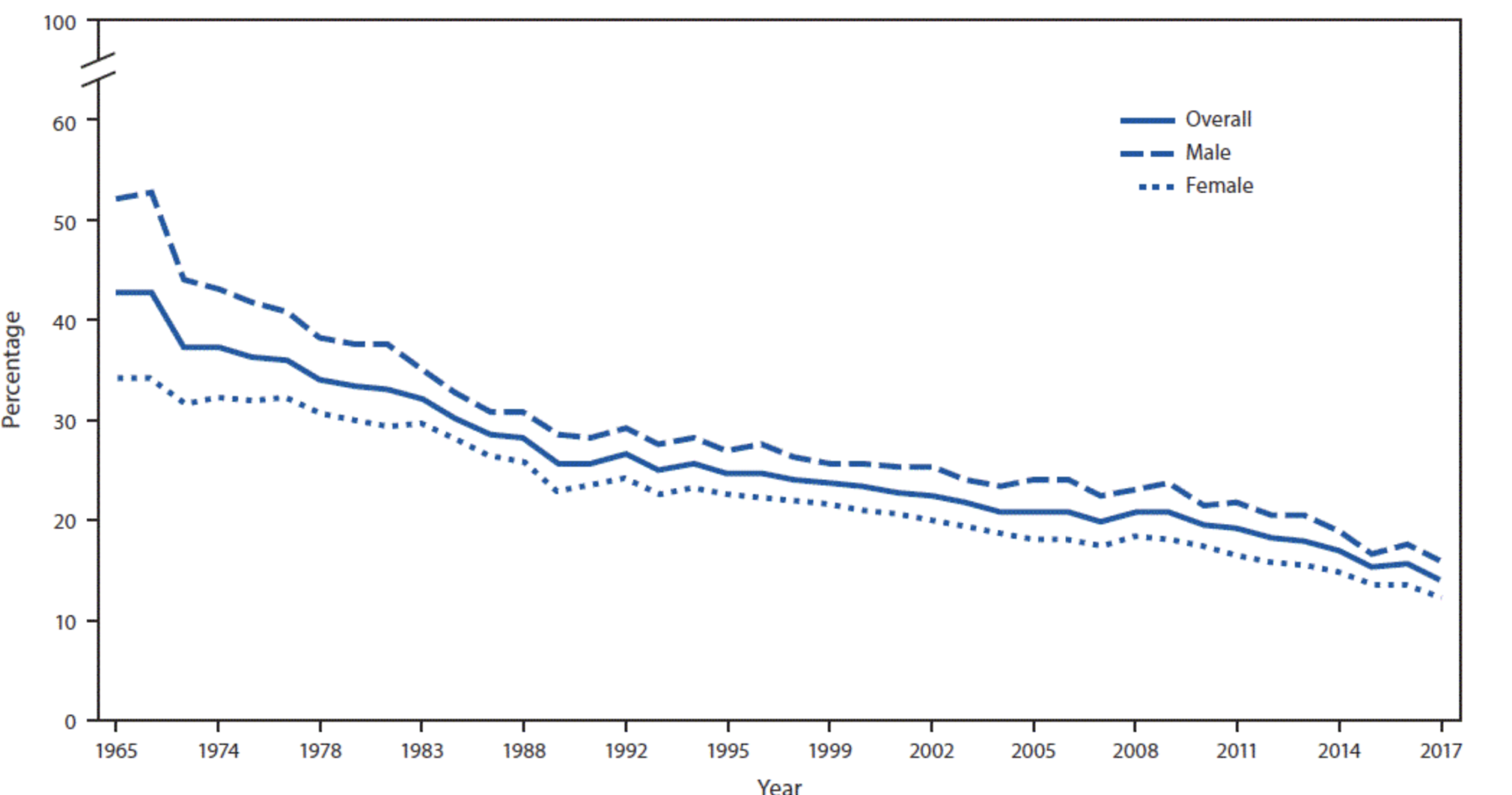 Source: CDC
Want to receive our daily reads in your inbox? Sign up here!