The weekend is here! Pour yourself a mug of Danish Blend coffee, grab a seat by the fire, and get ready for our longer form weekend reads:
• The Friendship That Made Google Huge (New Yorker)
• Four Days Trapped at Sea With Crypto's Nouveau Riche (Breaker)
• The Squishiest, Sweetest Sleep: The inventor of the water bed is reprising and updating it (New York Times)
• Inside China's audacious global propaganda campaign (The Guardian)
• 150 Minutes of Hell: Death and survival in California's fire tornado (San Francisco Chronicle)
• Tucker Carlson::«Trump is not capable» (Die Weltwoche)
• Inside the Hunt for the World's Most Dangerous Terrorist (Politico)
• The Day They Came for Rod Blagojevich (Chicago Magazine)
• The Steward of Middle-earth: The extraordinary fidelity of Christopher Tolkien, last of the Inklings. (Weekly Standard)
• The Last Curious Man: The enormous life of Anthony Bourdain, according to those who knew him best. (GQ)
Be sure to check out our Masters in Business interview this weekend with Jeremy Grantham, co-founder of the global asset management firm GMO and its chief investment strategist.
Country Stock Markets as a Percent of World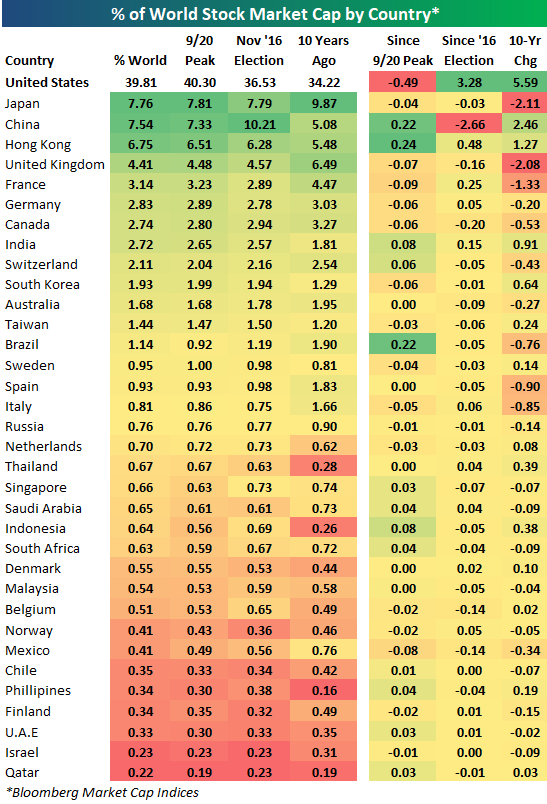 Source: Bespoke
Want to receive our daily reads in your inbox? Sign up here!