Programming Note: Starting next week, Ritholtz's Reads will have a new home. To receive early morning train reads every day in your inbox, please sign up here.
Its Amazon Prime Day

! Before you go shopping, start your day with our morning train reads:
• The Space Economy Is Starting to Take Shape 50 Years After the Moon Landing (Barron's)
• Ee Aye, Ee Aye, Oh: How Farm Investing Appeals to Pension Funds (Chief Investment Officer)
• Lessons From the 10 Best Years in Stock Market History (A Wealth of Common Sense)
• The future of work in America: People and places, today and tomorrow (McKinsey)
• How the US is weaponizing the world economy (Tim Harford)
• Beyond the Confetti: The Dark Side of Startup Success (Wall Street Journal)
•  The 'Texas Miracle' Missed Most of Texas (New York Times)
• Tragic bridge collapse spurs creation of new space-based inspection method: Satellite photos spot worrisome shifts in a bridge's structure as tiny as the thickness of a dime. (NBC News)
• The New Anti-Semitism: In Europe and the U.S., rising political forces on both the right and the left have revived old patterns that scapegoat Jews for society's ills (Wall Street Journal)
• 50 Facts About the Apollo 11 Moon Landing for Its 50th Anniversary (Mental Floss)
Be sure to check out our Masters in Business interview this weekend with Scott Kupor, managing partner at Andreessen Horowitz, and author of the new book, Secrets of Sand Hill Road: Venture Capital and How to Get It.
Cash on the sidelines: Investors have been positioned defensively.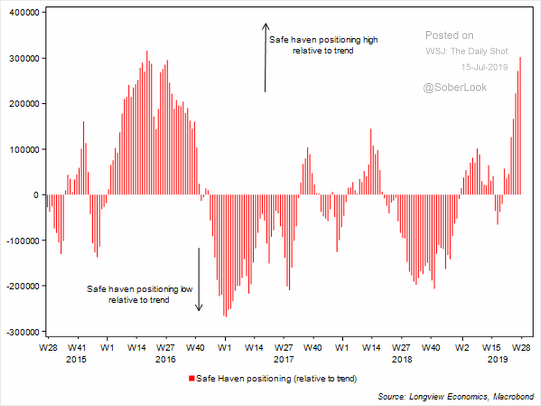 Source: Longview via Daily Shot
Sign up for our reads-only mailing list here.