My mid-week morning train reads:
• ~60% of S&P 500 stocks offer dividend yield of >1.7%, beating 10-year U.S. Treasurys (Wall Street Journal)
• Asness: Bonds Are Frickin' Expensive (AQR)
• The Seduction of Above Average (Of Dollars And Data)
• Superforecasting A Bear Market (Integrating Investor)
• The Resurgence of Gold (Penta) but see How Sustainable Is the Gold Rally? (CIO)
• What the Apple Card gets right, and wrong (Financial Times)
• "Wealth work" is one of America's fastest-growing industries. That's not entirely a good thing. (Atlantic)
• Jeff Bezos is quietly letting his charities do something radical — whatever they want (Vox)
• Most Personality Quizzes Are Junk Science. Take One That Isn't. (fivethirtyeight)
• The Anthropocene Is a Joke: On geological timescales, human civilization is an event, not an epoch. (The Atlantic)
What are you reading? Tell me here with #Reads.
Studies find that the US has a low risk of automation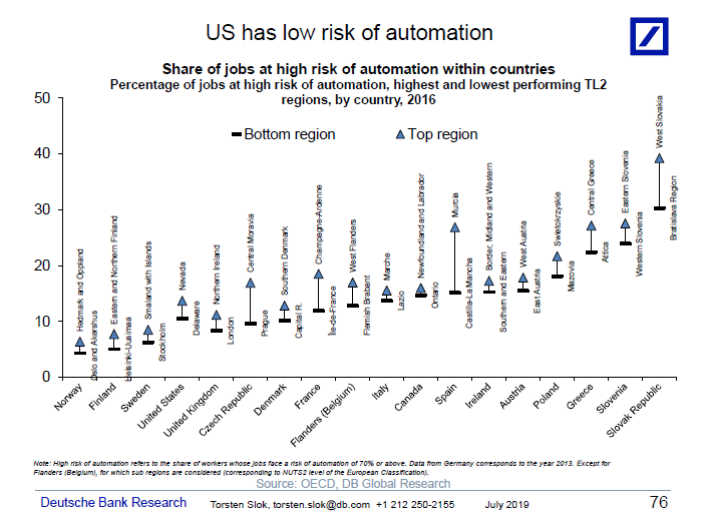 Source: Torsten Slok, Deutsche Bank Research
Sign up for our reads-only mailing list here.