My Two-for-Tuesday morning train reads:
• Does capitalism need saving from itself? (Financial Times) see also Financial planning founders started a movement — and created a profession (Investment News)
• Yes, Passive Investing Has Exploded. But Here's Why Fears of a Bubble are Overblown (Fortune)
• The iPhone and Apple's Services Strategy (Stratechery)  see also Let's Go Further and Hope for Every Last Drop of Joy to Be Drained From the World (Daring Fireball)
• Social media savvy advisers meet in real life at new conference (Investment News)
• Amazon Changed Search Algorithm in Ways That Boost Its Own Products (Wall Street Journal) see also Jeff Bezos becomes the first CEO to break his pledge to dump the 'shareholder value' model (Los Angeles Times)
• The bank manager will see you now: is Monzo ready to grow up? (The Guardian)
• China's TikTok social media app has captured the NFL, but not Hong Kong protesters (Washington Post) see also China is about to launch its own digital currency. Here's what we know so far. (MIT Technology Review)
• Most Americans Agree Climate Change Is a Crisis (Slate)
• How the plastic bottle went from miracle container to hated garbage (National Geographic) see also Irish Teenager Invents Magnetic Liquid Trap That Can Remove 90% of Microplastics From Water (Return to Now)
• The Inside Story Of How Michael Jordan And Four Other NBA Owners Launched The Super-Premium Tequila Brand Cincoro (Forbes)
Be sure to check out our Masters in Business interview this weekend with Sir John Browne, former CEO of British Petroleum between 1995 and 2007, and author of numerous books, most recently, Make, Think, Imagine: Engineering the Future of Civilisation.
Value's Rebounding, but Don't Get Your Hopes Up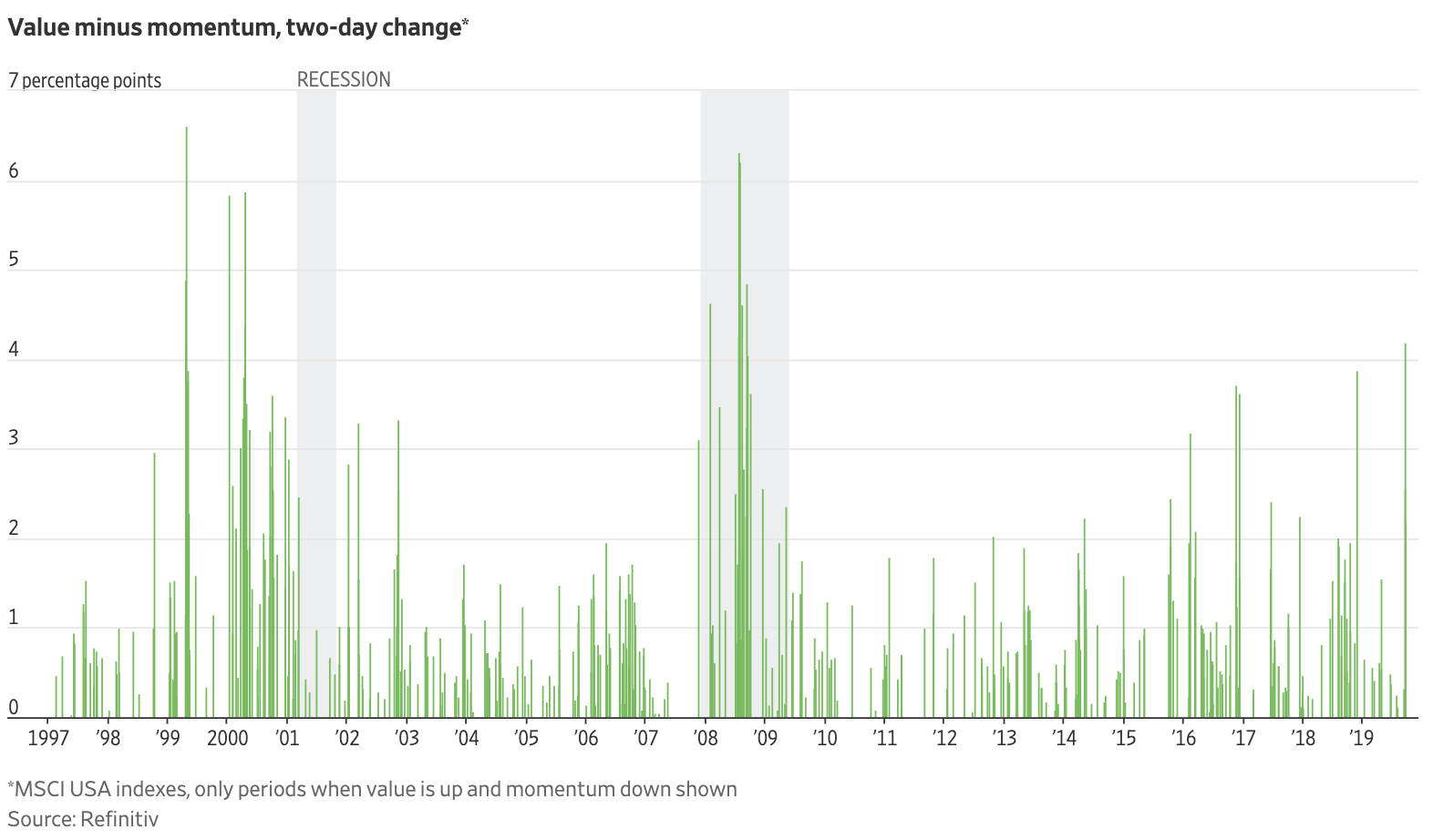 Source: Wall Street Journal