My first of October morning train reads:
• Dumb Watergate gets dumber: Trump Pressed Australian Leader to Help Barr Investigate Mueller Inquiry's Origins (New York Times) see also Barr personally asked foreign officials to aid inquiry into CIA, FBI activities in 2016 (Washington Post) see also Pompeo Took Part in Ukraine Call, Official Says (Wall Street Journal)
• RIAs acquiring firms at record pace: Billion-dollar RIAs only account for 5% of firms, but control 64% of the assets. (Investment News)
• How PetSmart Swallowed Chewy—and Proved the Doubters Wrong (Wall Street Journal) see also McDonald's CEO Wants Big Macs to Keep Up With Big Tech (Bloomberg Businessweek)
• This is the Year's Best- Performing Hedge Fund (Institutional Investor)
• Inside the new Uber: Weak coffee, vanishing perks and fast-deflating morale (Washington Post) see also  Neither, and New: Lessons from Uber and Vision Fund (Stratechery)
• The Week the C.E.O.s Got Smacked (New York Times)
• How math skills plus confidence equals better judgment on health, money (Washington Post) see also Numeracy and Decision Making (SAGE)
• Great Ideas Are Growing Scarce. That's Not So Great. Technological innovation is slowing, threatening not just growth but even our survival. (Bloomberg)
• How Anti-Vaccine Sentiment Took Hold in the United States (New York Times) see also A mother's loss made her an anti-vaccination star. But vaccines didn't kill her baby. (NBC News)
• California Governor Signs Plan to Let N.C.A.A. Athletes Be Paid (New York Times)
Be sure to check out our Masters in Business interview this weekend with Academy Award winning producer Brian Grazer. His film and television credits include A Beautiful Mind, Apollo 13, Arrested Development, 8 Mile, Splash, Backdraft, Liar Liar and The Da Vinci Code; His TV productions include Arrested Development, Sports Night, and 24. His new book is Face to Face: The Art of Human Connection.  
YTD U.S. total home sales (new + existing) trail the previous 2 years, at 2016 levels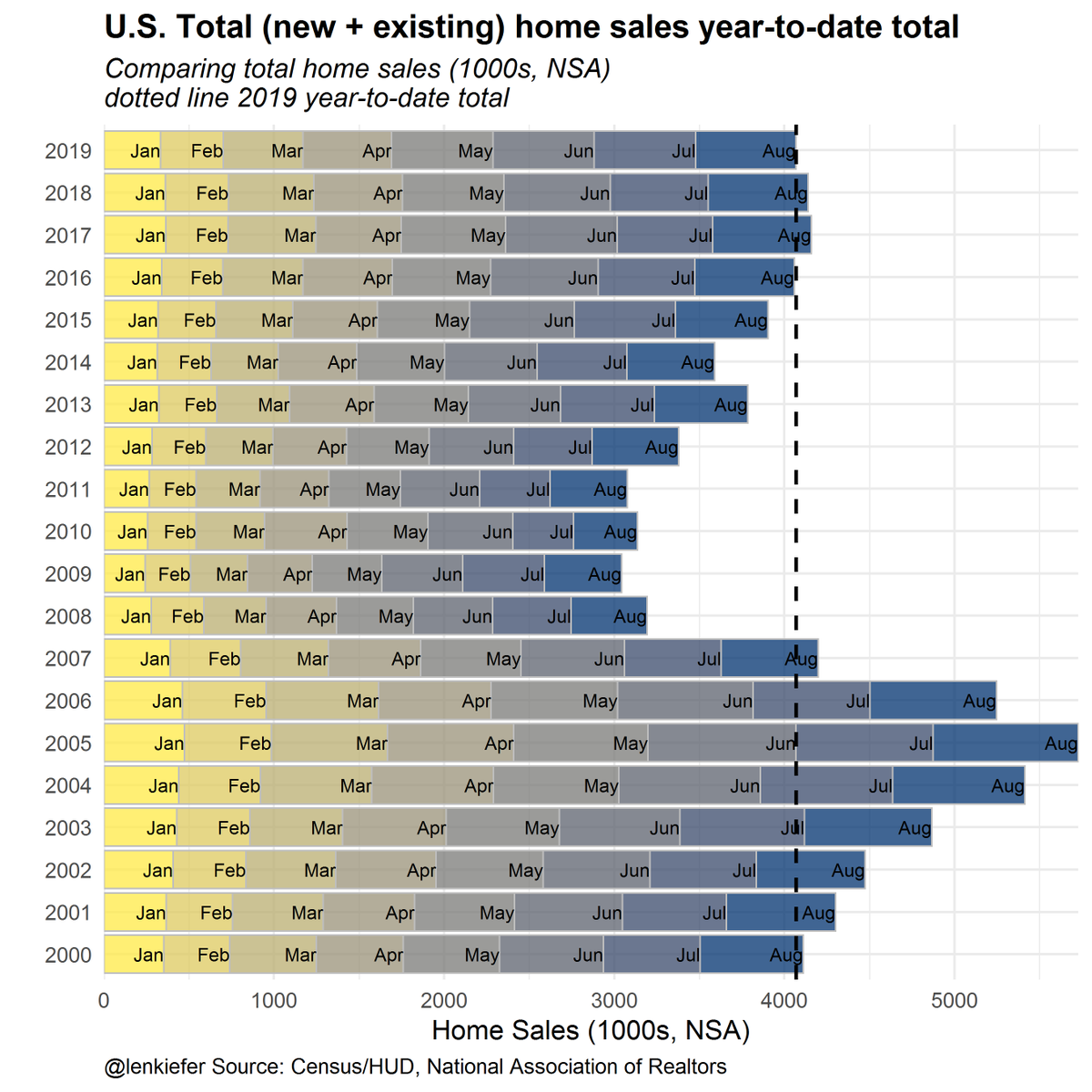 Source: Len Keifer
Sign up for our reads-only mailing list here.