My late in the year morning reads:
• Why You Actually May Want to Buy 'Bears' in a Bull Market (Fortune)
• Retailers grapple with $100bn returns problem: Online purchases in the US almost three times more likely to be sent back (Financial Times)
• Investors Conquered Fees. Next Up Is Their Own Behavior. (Bloomberg)
• Christmas Clubs and Private Equity Returns (Morningstar) see also  The Financial Lesson of 2008-09 That Most Investors Have Forgotten (Wall Street Journal)
• Dimensional Fund Advisors makes unprecedented slash of fees across all its mutual funds and declines to rule out DFA ETFs muscling into the crowded market (RIABiz)
• The 13 Biggest Career Crashes Of 2019 (Forbes)
• 2 Texas Billionaires Think They Can Fix Philanthropy (Bloomberg)
• SUV shaming: I care about climate change, so why am I driving an SUV? (Bulletin of the Atomic Scientists)
• The most popular fact checks of 2019 (Washington Post)
• LeBron James and the Golden Age of Geezer Athletes (Wall Street Journal) see also LeBron or MJ? How the King is settling the GOAT debate (ESPN)
Be sure to check out our Masters in Business interview this weekend with Bruce Van Saun, Chairman and Chief Executive Officer of Citizens Financial Group. CFG is the bank that (among other things) funds most of the iPhone purchases or leases to consumers.
World's Richest Gain $1.2 Trillion in 2019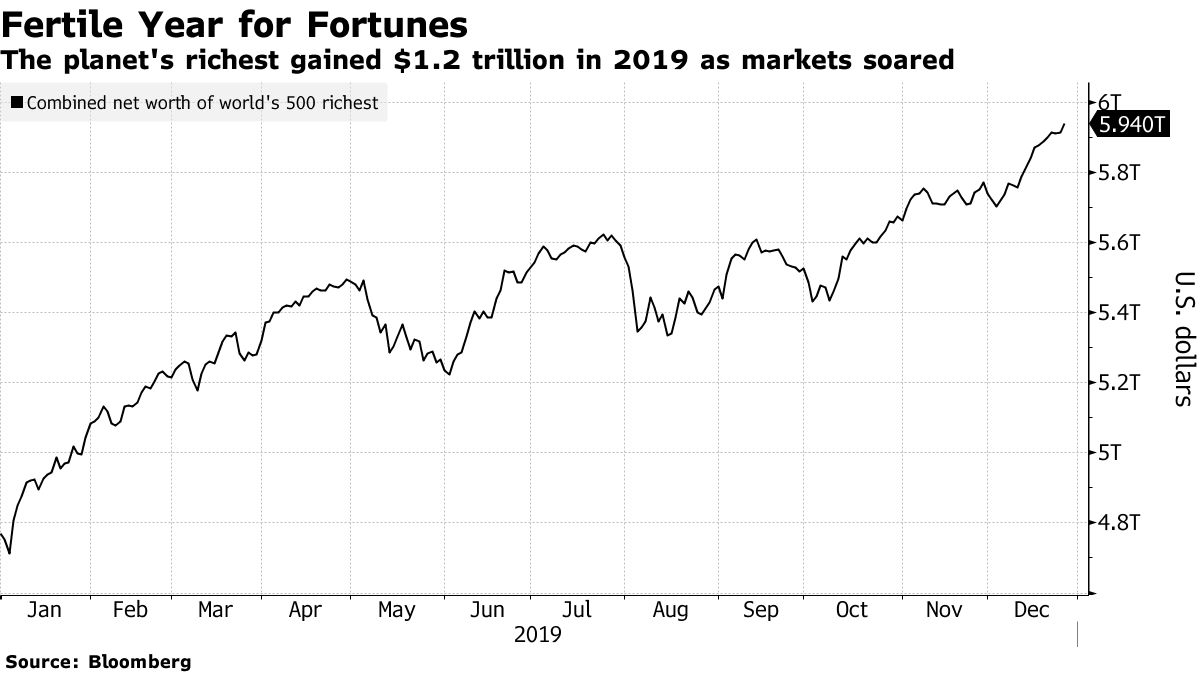 Source: Bloomberg
Sign up for our reads-only mailing list here.