My mid-week morning train reads:
• How Will Coronavirus Affect Your Portfolio? (Of Dollars And Data)
• Who's the Culprit for Why American Wage Growth Is Going Nowhere? (Chief Investment Officer)
• Hedge Funds Have (Almost) Never Delivered on Their Promises. Why Are Investors Bailing Now? (Institutional Investor)
• Zweig: Bond Funds Are Hotter Than Tesla (Wall Street Journal)
• Elon Musk's New Nemesis: Rivian Founder R.J. Scaringe Has A $3 Billion War Chest And Tesla In His Headlights (Forbes)
• Why it only costs $10k to 'own' a Chick-fil-A franchise: The chicken chain is known for having the lowest entry cost of any major fast-food franchise — but there's a catch. (The Hustle)
• Family Builds $3.8 Billion Fortune, One Pint of Blood at a Time (Bloomberg)
• It's Kochs vs. Mercers in the Right's Big Tech Brawl (Businessweek)
• Thy Neighbor's Solar Panels: When our peers take actions to preserve the planet, we're more likely to follow suit. How the human instinct to conform could help us address the climate crisis. (The Atlantic)
• A photographer goes behind the scenes at the Westminster Dog Show (Washington Post)
Be sure to check out our Masters in Business interview, where we geek out on cars with Hannah Elliot, reviewer of supercars for Bloomberg.
Sanders and Buttigieg are topping searches…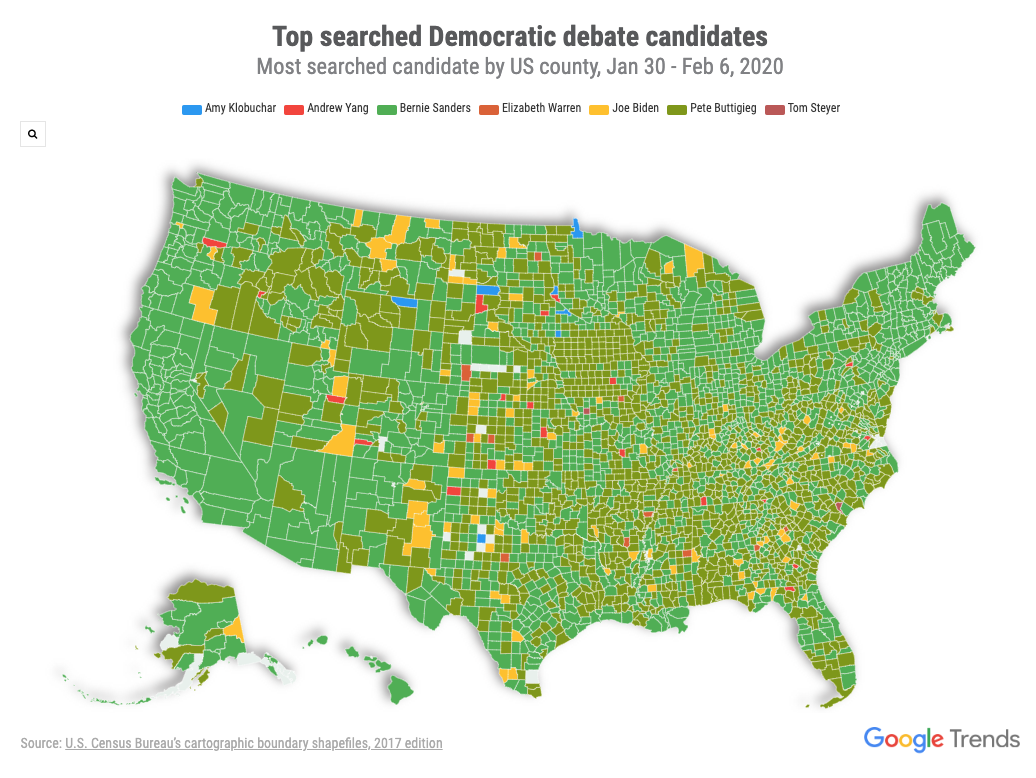 Source: CNN
Sign up for our reads-only mailing list here.