My easy like Sunday morning policy reads:
• Deutsche Bank's Perilous Pursuit of Profit: From Nazi collaboration to money laundering, a new book chronicles the German bank's "trail of destruction." (New Republic)
• The Cost of Thriving (American Affairs)
• Build Build Build Build Build Build Build Build Build Build Build Build Build Build:  When California's housing crisis slammed into a wealthy suburb, one public servant became a convert to a radically simple doctrine. (Upshot)
• The Green Miles: Kentucky was devastated for decades by mountaintop removal. Now scientists have figured out a way to undo the damage — one tree at a time. (Washington Post)
• Groundbreakers 2020: 50 Women Changing the World (Worth)
• My Journey Through Tijuana for the Best Surgery $2,000 Can Buy (Medium) see also The Great Affordability Crisis Breaking America (The Atlantic)
• The Health System We'd Have if Economists Ran Things (Upshot)
• Trickle-Downers Created the Homelessness Crisis. Now They Want You to Believe They Can 'Solve' It. (The Nation)
• The Heartland Lobby: The American Heartland Institute is supporting climate change deniers in Germany with the goal of undermining climate protection measures. (Correctiv)
• The 5 Lessons from 2016 Democrats Need to Understand If They Want to Stop Bernie (The Bulwark) See also Bernie Sanders Is George McGovern: The similarities between 2020 and 1972 are too astonishing to ignore.  (The Atlantic)
Be sure to check out our Masters in Business interview this weekend with Brian Deese, Global Head of Sustainable Investing for Blackrock, the investing giant managing over 7 trillion dollars.
Companies have finally started reporting CEO-worker pay ratios.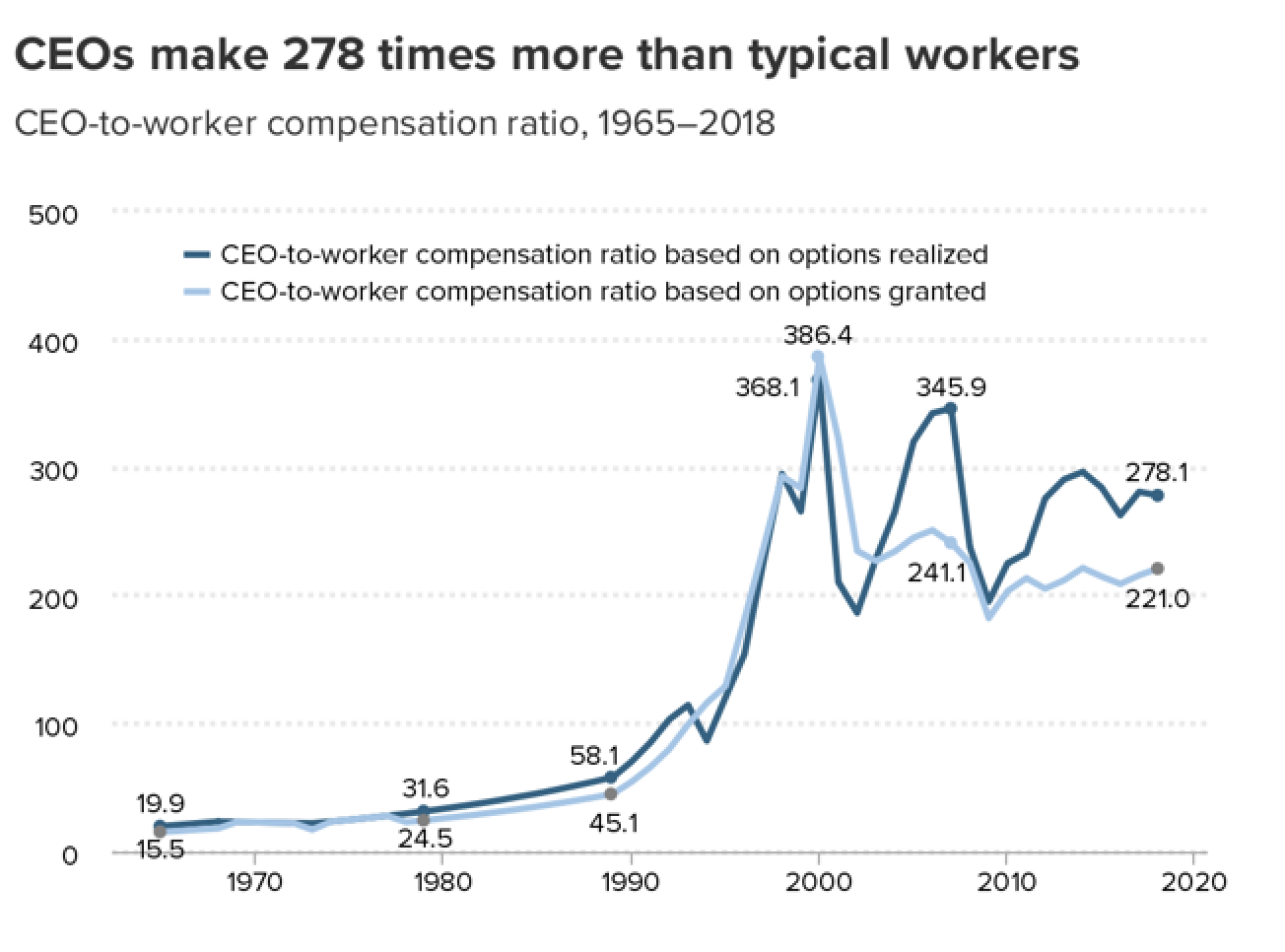 Source: Vox
Sign up for our reads-only mailing list here.