My morning day 10 reads:
• America Needed Coronavirus Tests. The Government Failed: Decisions that limited testing for the pathogen blinded the U.S. to the outbreak's scale. Here's how it happened. (Wall Street Journal)
• An 'average' year is rarer than you may think (Evidence Based Investor)
• Should You Buy Stocks Now? (Of Dollars And Data)
• Bond ETFs: Not Mispricing (that would be the Mutual Funds) (ETF Trends)
• The second-best plan that you can execute is better than the best plan that you can't execute. (Aleph blog)
• The World's 50 Most Innovative Companies of 2018 (Fast Company)
• Activist Hedge Funds Hurt Businesses in the Long Run (Institutional Investor)
• "I'm Not An Epidemiologist But…": The Rise Of The Coronavirus Influencers (Buzzfeed)
• Defining Information (Stratechery)
• Joe Biden's secret governing plan (Axios)
Be sure to check out our Masters in Business interview this week with David Dunning, professor of psychology at the University of Michigan, where he focuses on the psychology underlying human misbelief. He is best known for the Dunning Kruger effect, his work on metacognition and why the unskilled are unaware of their lack of skills.
President approval ratings down 5% points on handling of pandemic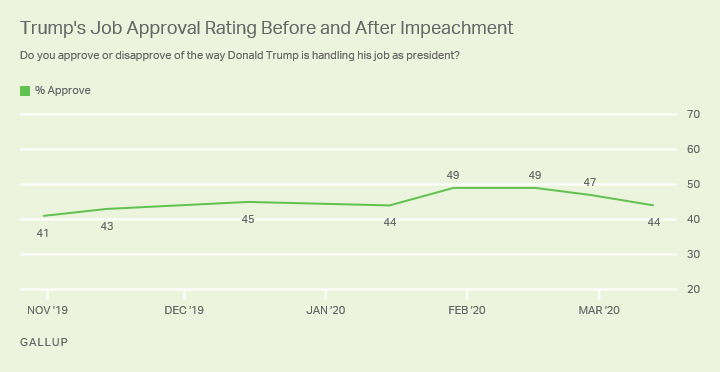 Source: Gallup
Sign up for our reads-only mailing list here.