My Two-for-Tuesday morning train working from home reads:
• When All News Is Bad News (Compound) see also 'Buy when blood is in the streets,' and other maxims from bear markets past (Los Angeles Times)
• Why Are Markets So Volatile? It's Not Just the Coronavirus. (Wall Street Journal)
• Bob Iger's Next Priority? Streamline Disney+ Development (Hollywood Reporter) see also How execs at Twitter, Slack and Box decided to send everyone home (Protocol)
• Bond ETFs: Not Actually Broken (ETF Trends)
• How Covid-19 Affects the U.S. Workforce, by Income and Industry (Businessweek) see also Super-rich jet off to disaster bunkers amid coronavirus outbreak (The Guardian)
• Supermarket sick (Popular Information)
• How Long Does the Coronavirus Last on Surfaces? (Wired) see also The Coronavirus Called America's Bluff (The Atlantic)
• Italy's Nightmare Offers a Chilling Preview of What's Coming (Bloomberg)
• State Takes on a Purple Hue; Partisans Divided Over Coronavirus (Monmouth University Polling Institute) see also Without guidance from the top, Americans have been left to figure out their own coronavirus solutions (Washington Post)
• SoftBank Owned Patent Troll, Using Monkey Selfie Law Firm, Sues To Block Covid-19 Testing, Using Theranos Patents (Techdirt)
Be sure to check out our Masters in Business interview this weekend with Cristiano Amon, president of mobile semiconductor giant Qualcomm. An engineer by training, Amon oversees all of Qualcomm's semiconductor business, and serves on the firm's executive committee.
Global stock markets decline by $20 trillion over the past 3 weeks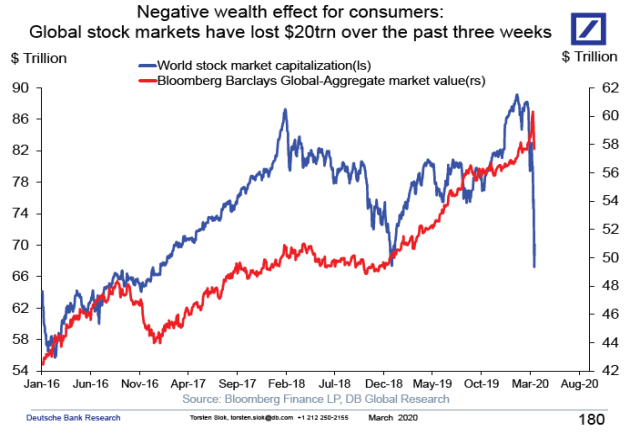 Source: Torsten Sløk, Deutsche Bank Securities
Sign up for our reads-only mailing list here.