My mid-week morning train WFH reads:
• Your Home Office Is a Hacker's Paradise. Here's Why. (Institutional Investor)
• Super-Rich Stranded by Lockdowns Face Higher Tax Bills (Bloomberg)
• Hulbert: Skilled active investment managers now have a huge opportunity to add value (Marketwatch)
• What Would My Granddaddy Say (about alternative investment funds)? (Provoking Posts)
• The Case Against Value Investing (Batnick) responding to Is (Systematic) Value Investing Dead? (Asness)
• Bill Gates Has Regrets: Years before the Covid-19 pandemic, the billionaire tried to warn global leaders of the threat from new infectious diseases. Few listened. 'I feel terrible.' (Wall Street Journal)
• Twitter now labels misleading coronavirus tweets with a misleading label (Vox)
• The Gaslighting of America Has Begun: Understand your power, my friends. Business and government do. (Medium)
• Doctors keep discovering new ways the coronavirus attacks the body (Washington Post)
• The Day the Live Concert Returns: I don't know when it will be safe to sing arm in arm at the top of our lungs. But we will do it again, because we have to. (The Atlantic)
Be sure to check out our Masters in Business interview this weekend with Jim Bianco, President and Macro Strategist at Bianco Research. Bianco was the first strategist who correctly identified how QE/ZIRP would impact equity prices.
America's Job Losses Might Be Slowing: Daily Tracker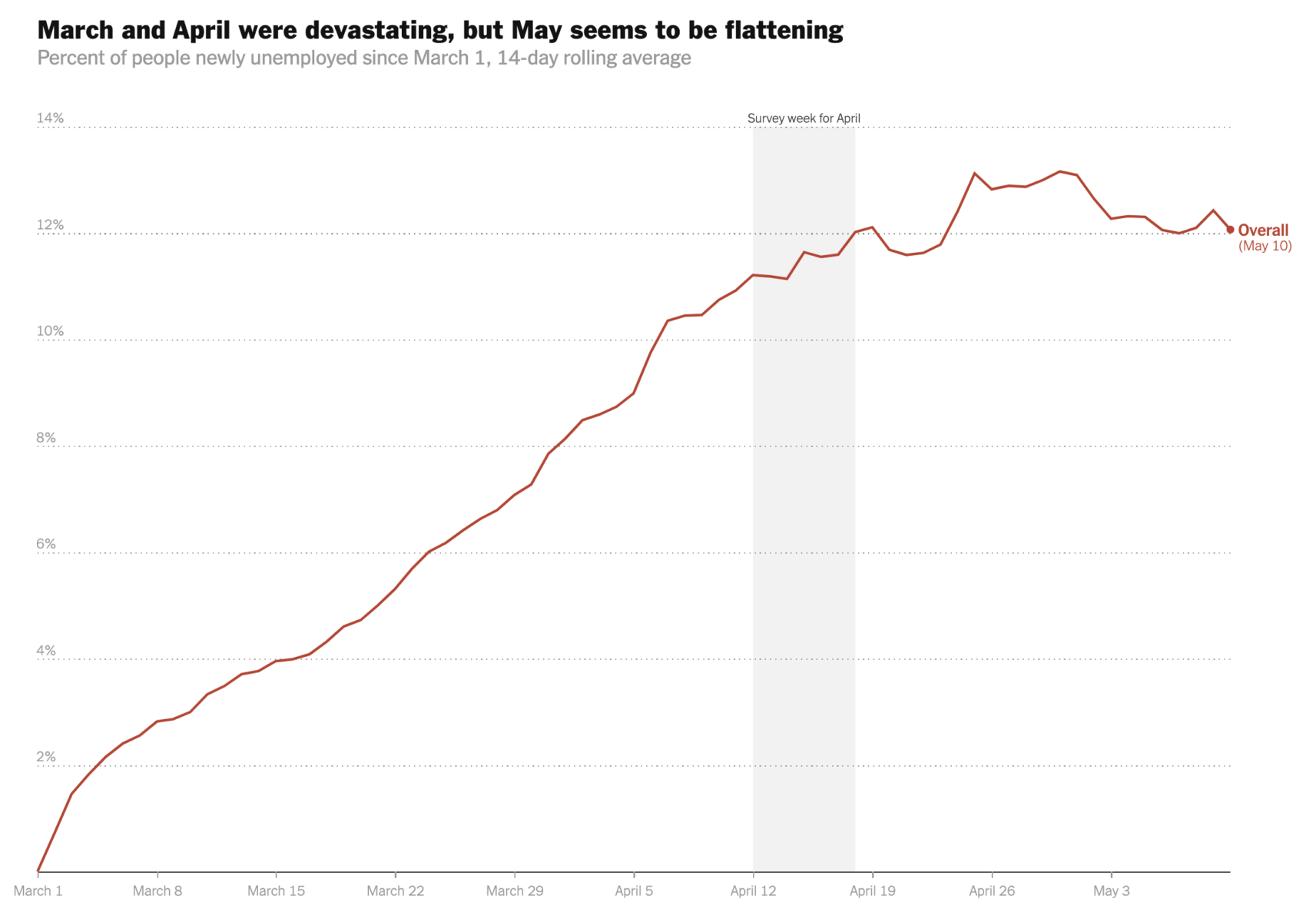 Source: Upshot
Sign up for our reads-only mailing list here.