The weekend is here! Pour yourself a mug of Danish Blend coffee, grab a seat outside, and get ready for our longer form weekend reads:
• Solar's Future is Insanely Cheap (Ramez Naam)
• Is Your Benchmark for Real? Its Probably Not (CIO)
• The Confessions of Marcus Hutchins, the Hacker Who Saved the Internet (Wired)
• Doctors are now social-media influencers. They aren't all ready for it. (MIT Technology Review)
• The Prophecies of Q: American conspiracy theories are entering a dangerous new phase. (The Atlantic)
• The real Lord of the Flies: what happened when six boys were shipwrecked for 15 months (The Guardian)
• Google Erases Thousands of Links, Tricked by Phony Complaints (Wall Street Journal)
• The Grapelord of Napa Faces a Threat Worse Than Plague (New York Times)
• Muscle Shoals: On the Shoulders of Giants (Bitter Southerner)
• When the Knicks Were Legend (New York Times)
Be sure to check out our Masters in Business interview this weekend with Henry Cornell, founder of Cornell Capital. Previously, he was the Vice Chairman at Goldman Sachs, where he was the original architect of the firm's Merchant Banking Division.
Coronavirus Drives 75% of Small Businesses to Seek Federal Aid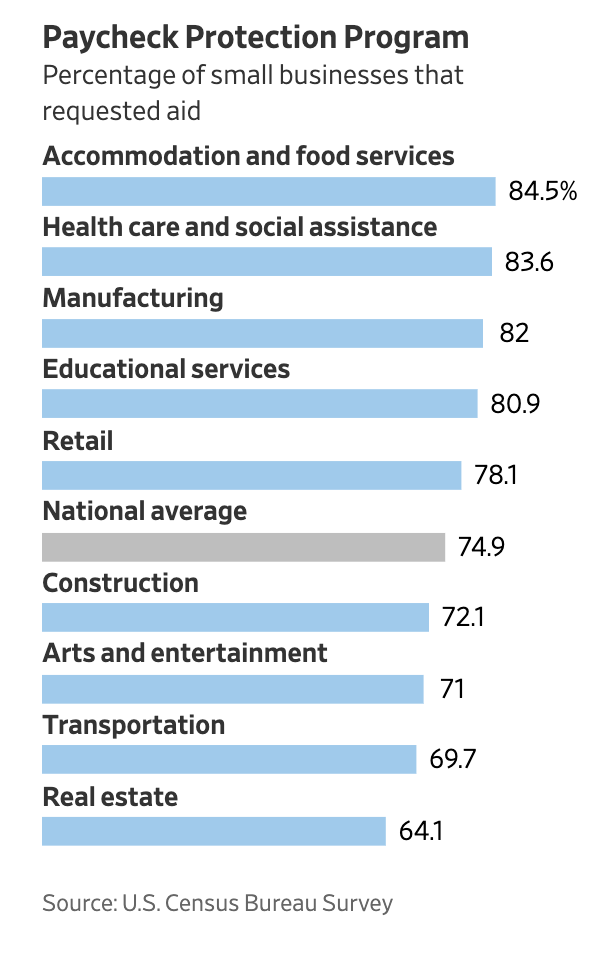 Source: Wall Street Journal
Sign up for our reads-only mailing list here.