My end of week morning train WFH reads:
• The Neuroscience of Racism (Psychology Today)
• NFP: Locked-Up Journalists. Espionage Investigations. Constitutional Challenges. The Government's Release of Economic Data Was Arcane and Complex — Until Now. (Institutional Investor)
• Future Returns: Investing to Further Social Justice (Barron's)
• The Mice that Roared: How Two Small Funds Threaten to Disrupt Two Large Industries (Mutual Fund Observer)
• The next big problem for the economy: Businesses can't pay their rent. Nearly half of commercial retail rents were not paid in April and May (Washington Post) see also Are we heading into another Depression? (Financial Times)
• Your Hacking Risk: What You Don't Know Really Can Hurt You (Chief Investment Officer)
• Byte Flight: What happens to Silicon Valley when its tech workers flee? (The Verge)
• The C.D.C. Waited 'Its Entire Existence for This Moment.' What Went Wrong? (New York Times)
• How Do Cops Like Derek Chauvin Get To Keep Working? Police Unions Protect Them. (Buzzfeed)
• Four Years After Colin Kaepernick Kneeled, NFL Quarterbacks Are Starting To Speak Out (Fivethirtyeight) see also Colin Kaepernick's Protest Is Raging Across America (Wall Street Journal)
Be sure to check out our Masters in Business interview this weekend with Jon Litt, Land & Buildings Investment Management chief investment officer, about the prospects for recovery in commercial real estate.
Throwing CAPE over S&P 500 is seen justifying valuation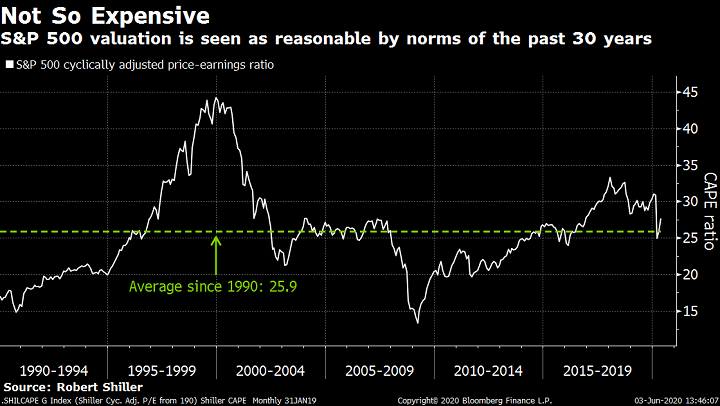 Source: Bloomberg Radio's Dave Wilson
Sign up for our reads-only mailing list here.