My mid-week morning train WFH reads:
• As Apple Nears $2 Trillion, Its Share of S&P 500 Hits Milestone: Apple's stock market heft has entered uncharted waters. Thanks to more than doubling since last August, its weighting in the S&P 500 just leapfrogged IBM's in 1985 to become the biggest in 40 years.(Bloomberg) see also Why Markets Don't Seem to Care If the Economy Stinks: So many of the most battered industries don't matter much because of the way stock indexes are structured. (Bloomberg)
• Long-Range Investing, a Decline in Births, and a Fertility Rate that's Scared of COVID-19: There's actually a likelihood of a baby bust, with 300,000 to 500,000 fewer births predicted next year. And, with the number of global births already on a decline before the pandemic, the likelihood of it affecting the gross domestic product (GDP) is quite high. (CIO)
• America's first female recession: Double-digit unemployment. Increased hours of child care. Lost hours and benefits. In three months, women lost a decade's worth of economic advancement. How long will it take to catch back up? (The 19th)
• Interest Rates Are Low, but Loans Are Harder to Get. Here's Why: Here's Why. Banks have tightened standards, becoming more choosy about their borrowers and asking a lot of questions. (New York Times)
• The Teenager Allegedly Behind the Twitter Hack and How He Did It: The crucial moment in the worst hack in Twitter's history sounded like something millions of Americans would find unremarkable. It was a call from the IT department. Or at least, it seemed to be. (Wall Street Journal)
• The 'Sweat' you drink: Inside the meteoric rise of Asia's answer to Gatorade: Pocari Sweat was launched in Japan in the 1980s as the economy boomed. Otsuka predicted that the level of economic growth would spread across Asia. (CNN)
• Walmart has again delayed the launch of its Amazon Prime competitor Walmart+ It costs $98 a year and include same-day delivery of groceries, fuel discounts, and other perks. (Vox)
• Many Americans Are Convinced Crime Is Rising In The U.S. They're Wrong: We are terrible at estimating our risk of crime — much worse than we are at guessing the danger of other bad things. (FiveThirtyEight)
• Confederate Groups Are Thriving on Facebook. What Does That Mean for the Platform? We are terrible at estimating our risk of crime — much worse than we are at guessing the danger of other bad things. (Slate)
• Colleges Try to Reunite Students With the Stuff They Left Behind: Students left in a rush after coronavirus shut down schools. Now they're trying to reclaim clothes and at least one French horn before the fall semester starts (Wall Street Journal)
Be sure to check out our Masters in Business interview this weekend with Simon Hallett, Co-CIO at Harding Loevner, which manages about $70 billion dollars. Hallett is also the owner of Plymouth Argyle Football Club, a League One team based in the city of Plymouth, Devon, England.
At least 76% of American voters can cast ballots by mail in the fall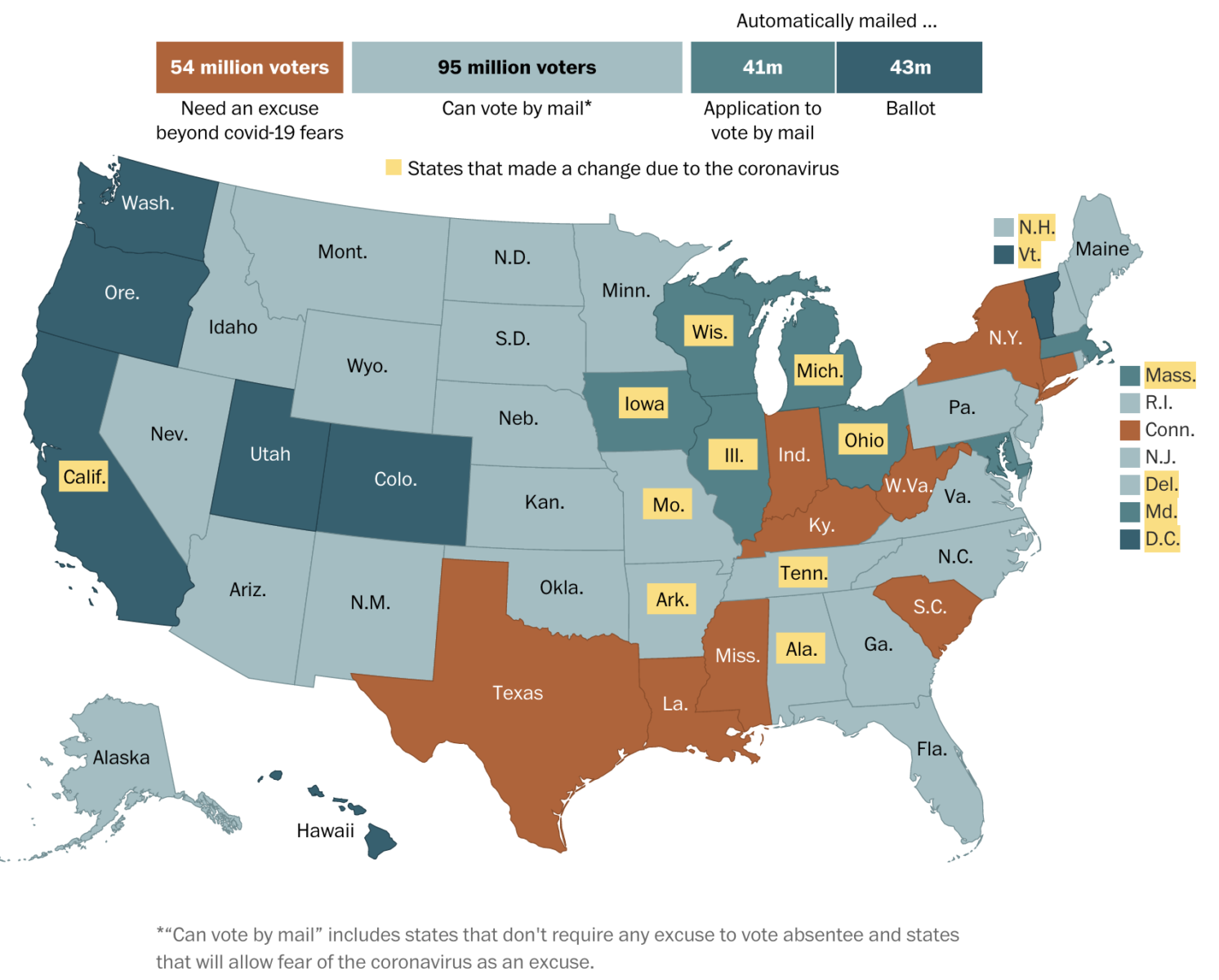 Source: Washington Post
Sign up for our reads-only mailing list here.