My mid-week morning train WFH reads:
• Is Taiwan Next? In Taipei, young people like Nancy Tao Chen Ying watched as the Hong Kong protests were brutally extinguished. Now they wonder what's in their future. (New York Times)

• 💥What the Bloody Hell is Happening with Evergrande?💥 Shenzhen-based The Evergrande Group ($EGRNF) is China's second largest property developer by sales and the 122nd largest developer in the world by revenue according to the 2021 Fortune Global 500 List. (Petition) see also Evergrande ≠ Lehman Barclays weighs in on whether markets should care quite so much about the struggling real estate developer. (Financial Times)

• Why Buying the Dip is a Terrible Investment Strategy I'm going to give Buy the Dip the proper burial that it deserves and demonstrate without a reasonable doubt why it is a terrible investment strategy. (Of Dollars And Data)

• Who Owns Your Life Insurance Policy? It Might Be a Private-Equity Firm Insurers such as Allstate and Voya have pulled back from the business, creating an opening for asset managers with a higher appetite for risk (Wall Street Journal)

• Luxury Supertowers Are Going Even Higher (Don't Mind the Swaying!) Advances in concrete, elevators, and engineering have created a new breed of buildings. (Businessweek)

• How Activist Bill Ackman Finds His Targets—And Makes a Pile Off Them The hedge fund honcho, who also has had his duds, combines a composed demeanor under fire and an appetite for enormous risk. (CIO)

• America Is Being Held for Ransom. It Needs to Fight Back. The digital scourge known as ransomware — in which hackers shut down electronic systems until a ransom is paid — is worse than ever. To combat the ransomware problem, the Biden administration has so far taken a two-prong approach: concerted diplomacy with nations harboring cybercriminals and expanded defensive capabilities at home. (New York Times)

• 'Post-Vax COVID' Is a New Disease Eventually we might all have to deal with COVID-19—but a shorter, gentler version, thanks to vaccines. (The Atlantic)

• L.A.'s New Reflective Streets Bounce Heat Back into Space The air in these neighborhoods is getting cooler — with huge implications for sweltering cities worldwide. (Reasons To Be Cheerful)

• China's Biggest Movie Star Was Erased From the Internet, and the Mystery Is Why Zhao Wei was the Reese Witherspoon of China, then she was censored by the Communist Party amid a clampdown of the country's entertainment industry (Wall Street Journal)
Be sure to check out our Masters in Business interview this weekend with Campbell R. Harvey, professor of finance at Duke University's Fuqua School of Business. He is a partner and senior advisor at Research Affiliates. He is best known for his work on Yield Curve Inversion & Recessions. His most recent book is on decentralized finance, crypto and blockchain: "DeFi and the Future of Finance."
Time series of billion-dollar event damage by hazard type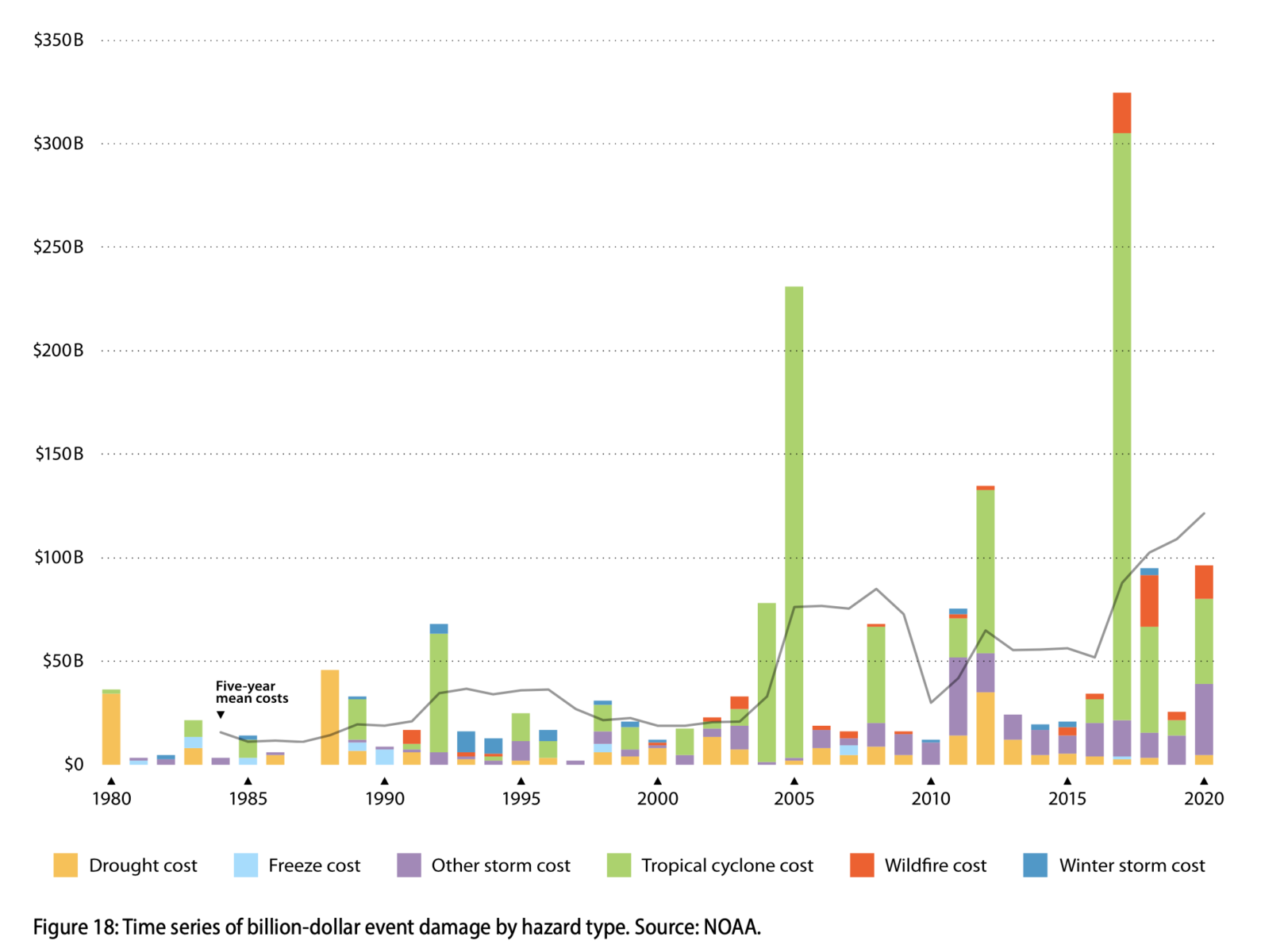 Source: Ceres
Sign up for our reads-only mailing list here.