My end of week morning train WFH reads:
• Hedge Trimming: Losing Streaks Coincide Since 1960, there have been 44 individual instances of the S&P 500 index enduring five or more consecutive down weeks. Since 1973, US Treasuries have had 31 such losing streaks lasting at least five weeks. Yet these prolonged sell-offs had never coincided — until the start of May. For the first time in the near 50 years for which we have both data sets, the two sides of a typical 60/40 US portfolio have lost money for five weeks in a row. (Man Institute)

• The stock market's panicking, but you don't have to: After the stock market plunged at the outset of the Covid-19 pandemic, it's been on a pretty good run. The S&P 500 climbed by 16% in 2020 and 27% in 2021. The environment made it perhaps a little easy to forget that bull markets don't last forever, and the waters can get choppy. As the saying goes, markets often take the stairs up and the elevator down, and we're on the elevator right now. (Vox) see also Amateur Investors Rode the Bull Up. Now the Bear Looms. An estimated 20 million people started trading on their own during the pandemic. Some are shifting strategies as stocks tumble, while others are getting out. (New York Times)

• Crypto's Great Reset: How Digital Asset Investors Will Recover From The Market's $1 Trillion Meltdown: The bottom fell out from one of crypto's fastest growing blockchains, LUNA, which promised to succeed where bitcoin failed. Its predictable collapse reverberated across the entire crypto market and is forcing investors to pick up the pieces. (Forbes)

• Is This the SPAC Era's Worst Deal? Cantor Fitzgerald and Goldman Sachs cooked up a fine mess with View Inc., with some help from SoftBank, Greensill and Credit Suisse. (Bloomberg)

• In coal country, a new chance to clean up a toxic legacy: Waste from abandoned and bankrupt mines has contaminated more than 12,000 miles of waterways. Now states are looking at how to extract critical elements from those waters to try to offset the high cost of cleanup. (Washington Post)

• How China uses global media to spread its views — and misinformation From covid to the war in Ukraine, China has ramped up its efforts to influence public opinion across the world. (Grid)

• The Debatable Land: Was Brexit made in Oxford? A new book pins the blame for Brexit on Oxford University. (The Debatable Land)

• How predators get past the trickiest of defenses Many clever species are undeterred by porcupine quills, venomous snake fangs, sticky-armed octopuses, and more. (National Geographic)

• Trump has endorsed nearly 200 candidates this year. These 26 will test his grip on the GOP. While the former president has notched some early wins, there's a long election season ahead. (Grid)

• 'Every guy was hitting on me': actor Rosie Perez on Botox, boxing – and the casting couch Spike Lee championed her, but she still had to battle misogyny and racism to make it to the top. Now, more in demand than ever, she talks about her trailblazing career. (The Guardian)
Be sure to check out our Masters in Business interview this weekend with Gerard K. O'Reilly who serves as Co-Chief Executive Officer and Chief Investment Officer of Dimensional Fund Advisors. He has evolved DFA's approach to creating and implementing investment solutions. Previously, he was Head of Research, managing the firm's rigorous, scientific approach to interpreting, testing, and applying research in portfolios.
Significant Intra-Year Drawdowns Are Common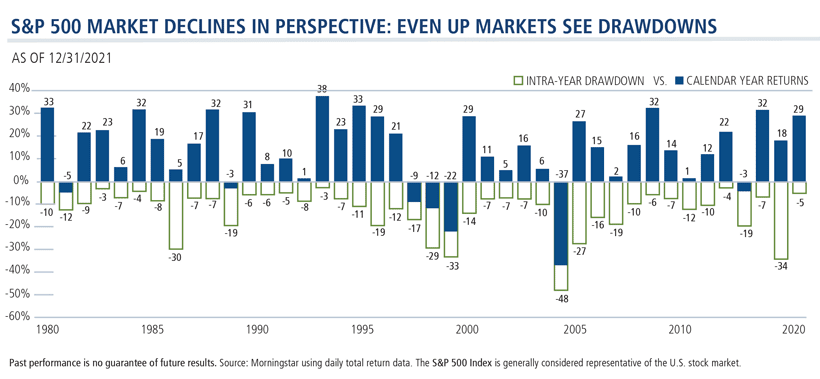 Source: Calamos Investments
Sign up for our reads-only mailing list here.