Avert your eyes! My Sunday morning look at incompetency, corruption and policy failures:
•  The case against the Supreme Court of the United States The Court was the midwife of Jim Crow, the right hand of union busters, and the dead hand of the Confederacy, and is now one of the chief architects of America's democratic decline. (Vox) see also Abortion Case Leak Shows That the Supreme Court Is Broken: The release of a draft majority opinion overturning Roe v. Wade turns a constitutional tragedy into an institutional calamity. (Bloomberg)

• The Prophet of the Revolt: Martin Gurri and the ungovernable public "Sometimes, by sheer luck, you are in a high place and can see the shape and character of the approaching trouble, while those in the flatlands have no idea of what's coming. That was me at the global media analysis section of CIA. And I was not alone. A group of us were obsessed with the same drama. We watched the digital tsunami tear its way around the world, and we observed, amazed, a tremendous spike in social and political turbulence behind it. We all asked the same question: Why? What does information technology have to do with politics? (The Pull Request)

• The War in Ukraine, as Seen on Russian TV Russian television's convoluted and sometimes contradictory narratives about the war are not solely intended to convince viewers that their version of events is true, disinformation experts say. Just as often, the goal is to confuse viewers and sow distrust so audiences are not sure what to believe. (New York Times) see also How millions of Russians are tearing holes in the Digital Iron Curtain A surge in virtual private network downloads is a challenge to Vladimir Putin and his version of the war. (Washington Post)

• Newly released video shows 9/11 hijackers with alleged Saudi intelligence operative operative. Our "friends" the Saudis (CBS News)

• How a billionaires boys' club came to dominate the public square The information that courses through legacy publications and social media networks is increasingly shaped by billionaires and other wealthy dynasties. (Washington Post)

• True costs: How the oil industry cast climate policy as an economic burden For 30 years, the debate has largely ignored the soaring costs of inaction. (Grist) see also Bank of America, Citigroup, and Wells Fargo Vote to Keep Financing Fossil Fuels The three banks have rejected shareholder resolutions to make their lending practices consistent with climate targets. (New Republic)

• U.S. police trainers with far-right ties are teaching hundreds of cops One police instructor who has taught 560 officers in recent years has joined one extremist group and supported other far-right movements. Others have echoed QAnon and other fringe conspiracy theories on social media, a Reuters examination found. (Reuters)

• Nurses are not OK: Why they're quitting their jobs, and what it means for the future of healthcare Stagnant wages, abusive patients and short staffing were growing problems. Then came covid. (Grid)

• Ron DeSantis is following a trail blazed by a Hungarian authoritarian The Florida governor isn't doing "competent Trumpism." He's inventing American Orbánism. (Vox) see also Ron DeSantis and the Unlearned Lessons of the G.O.P.'s Culture War Previous clashes between Republican lawmakers and prominent businesses in the states they control have not always worked out as planned. (New Yorker)

• Exposed by a Strava KOM: The many lives of a fake pro cyclist: Australian cyclist Nick Clark built a loyal following at his Virginia bike shop, based in part on his national and international results and a lengthy professional career. There was just one problem: none of it was true. This is the strange tale of the unravelling of a years-long deception – the 'Catch Me If You Can'-like story of a man with a claimed past as a pro cyclist, a soldier, a CEO, a lawyer, an author, an academic, a hostage responder, and a weapons instructor. (CyclingTips)     
Be sure to check out our Masters in Business interview  this weekend with Alex Guervich of Hon Te Advisors, a discretionary global macro hedge fund. Previously, Guervich ran JP Morgans's macro book. In 2020, Hon Te was ranked 2nd in net return, and a top 10 emerging manager. He is the author of The Next Perfect Trade and most recently, The Trades of March 2020.
Poll: Majority say Trump should be charged with crime over Jan. 6 role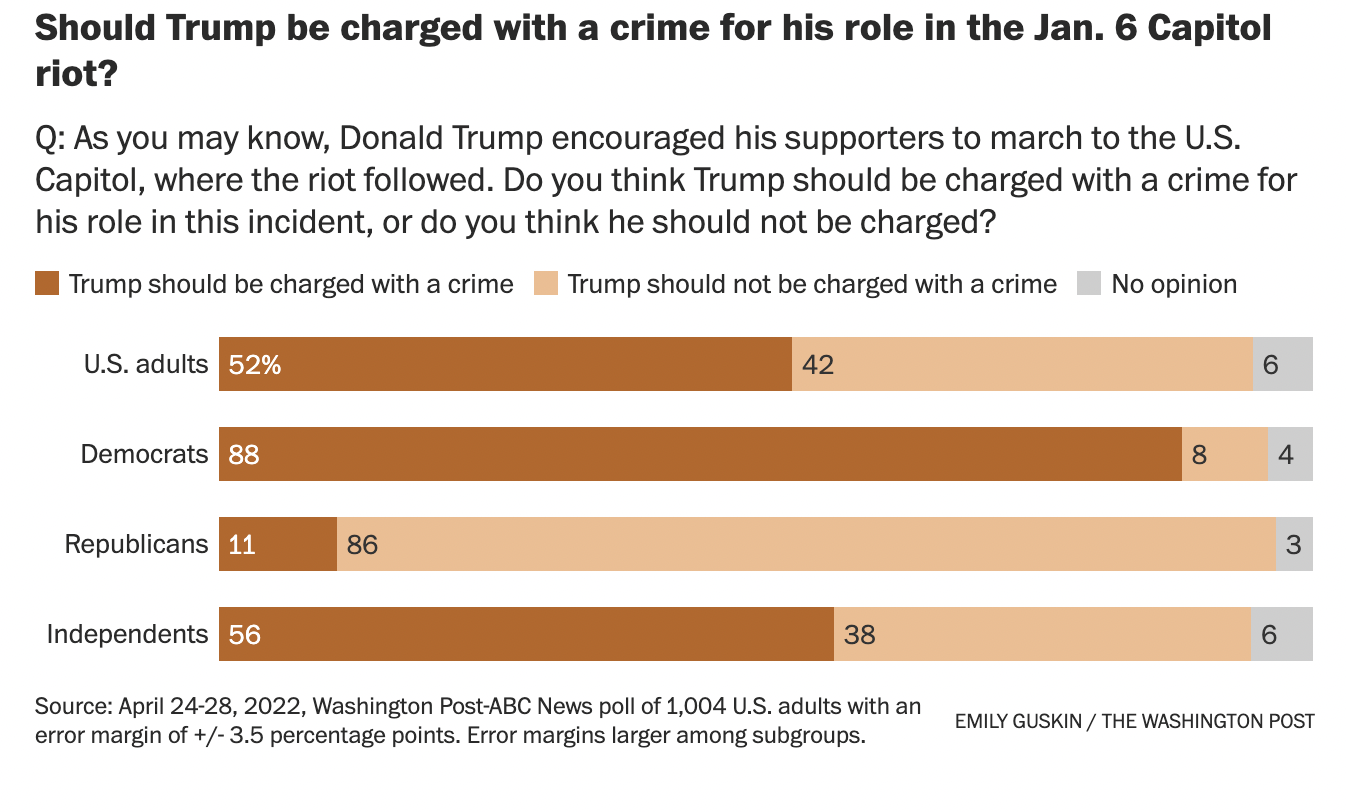 Source: Washington Post
Sign up for our reads-only mailing list here.
~~~
To learn how these reads are assembled each day, please see this.