Avert your eyes! My Sunday morning look at incompetency, corruption and policy failures:
• Good News: Economy Sucks, You're Screwed, and It's All Your Fault, Economists Say Make sure you're doing your part to help fight inflation: accept those wage cuts and worsening working conditions! (Vice)

• These 16 Republican congressmembers helped Trump try to overturn the 2020 election Meet the lawmakers most deeply involved in planning Jan. 6, according to the Jan. 6 committee.(Grid)

• Europe is burning like it's 2052 The extraordinary heat wave in Europe is showing what's possible already, and what lies ahead under climate change. (Vox) see also It's so hot in Europe that roads are literally buckling The world wasn't built for this heat (Vox)

• How 'Baby Al Capone' Pulled Off a $24 Million Crypto Heist Ellis Pinsky was a regular suburban teenager until he found his way into the underworld of internet hackers. In his first interview, he details the crime that nearly ruined his life. (Rolling Stone)

• Uvalde report: 376 officers but 'egregiously poor' decisions. decisions (AP) see also 3 takeaways from Texas's investigation of the Uvalde school shooting: These preventable failures cost Uvalde students and teachers their lives.(Vox) see also 12 times law enforcement misrepresented key details of the Robb Elementary School shooting in Uvalde In statements purporting to inform the public, officials misrepresented the Uvalde shooter's actions – and their own. (Grid)

• Right-Wing Think Tank Family Research Council Is Now a Church in Eyes of the IRS The FRC, a staunch opponent of abortion and LGBTQ rights, joins a growing list of activist groups seeking church status, which allows organizations to shield themselves from financial scrutiny. (ProPublica)

• Trump 'chose not to act' as mob terrorized the Capitol, panel shows The prime-time hearing of the Jan. 6 committee revealed that the president resisted using the word 'peaceful' in a tweet even as his vice president's Secret Service agents feared for their lives (Washington Post)

• A Political Party With an Armed Paramilitary Wing Is Not Consistent with Democracy The NRA used to say, "An armed society is a polite society." The truth is that an armed society is a fearful, dangerous, and — eventually — authoritarian society. (Hartmann Report) see also One in five US adults condone 'justified' political violence, mega-survey finds As mistrust and alienation from democratic institutions peaks, researchers explore how willing Americans are to commit violence (The Guardian)

• America Was in an Early-Death Crisis Long Before COVID: Even before the pandemic began, more people here were dying at younger ages than in comparably wealthy nations (The Atlantic)

• The least diverse cities and most common statues in America. And more!  We're carving out a dedicated space to dive into the humble data sets and rankings that delight us but might otherwise escape notice. Without further ado, let's take a Data Dive. (Washington Post)
Be sure to check out our Masters in Business interview this weekend with Graham Weaver, founder of and partner of Alpine Investors, a private equity firm in San Francisco that invests in software and services and manages about $8 billion dollars. Weaver holds an MBA from Stanford GSB and a B.S. in engineering from Princeton. He started Alpine in his dorm room at Stanford's Graduate School of Business, where he now is a lecturer, teaching courses on both management and entrepreneurship.
After COVID: Unhappiness pre and post Covid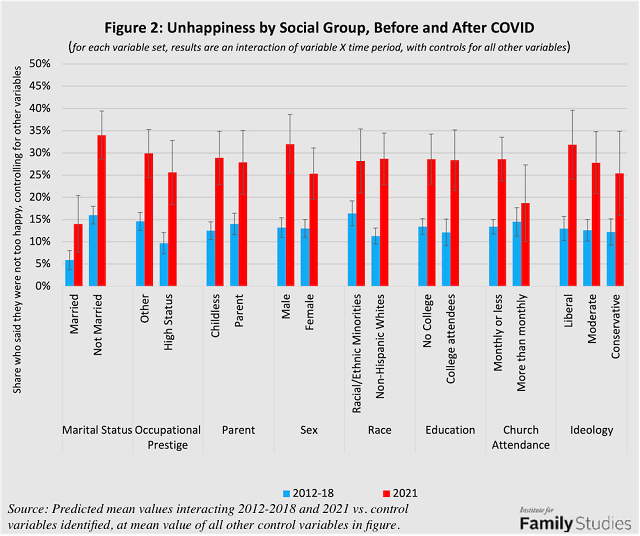 Source: Institute for Family Studies
Sign up for our reads-only mailing list here.
~~~
To learn how these reads are assembled each day, please see this.