My morning train WFH reads:
• Could This Little European Fund Be the Spark for a 'Vanguard of Hedge Funds'? Hedge fund replication — which can be thought of as a slightly more complicated version of a stock index fund — just got a big boost from a small fund. Seven years after its launch, an SEI fund is beating all its illustrious peers. That could be enough to finally make this hedge fund replication's moment.(Institutional Investor)

• Things Are Clear as Mud: This year has been all about inflation and interest rates. Rising inflation killed stocks and rising interest rates killed bonds. (Irrelevant Investor) see also The Uncertainty Monster: It is not whether or not you know what is going to happen – you don't know and never did. Your forecasting acumen between '21 and '22 is unchanged; the only thing that is different is your ability to lie to yourself about it. (The Big Picture)

• They Quit Goldman's Star Trading Team, Then the Bank Raised Alarms: Goldman accused a trading pair of accessing sensitive code on their way to a hedge fund. They say they're being baselessly tarnished for leaving together. (Bloomberg)

• The weird contradictions rendering the US economy inexplicable: Thanks to the pandemic and how advanced economies responded to it, we're in a very strange place indeed. The typical relationships between one signal from the economy and another have diverged in surprising ways. As the Federal Reserve (and the rest of us) try to navigate this moment, here are the top paradoxes. (Quartz)

• How Realistic Is Getting Inflation Back to Near 2%? A lot of wise souls think that goal is achievable—despite the heavy weather blocking the way. (Chief Investment Officer) see also U.S. prescription drug prices have skyrocketed. What does the new Senate bill do to bring the prices down? A reading list on the price of prescription drugs and what can be done to fix it. (Grid)

• SoftBank Emerges as a Big Loser of the Tech Downturn. Again. CEO Masayoshi Son pledged to curb his aggressive investment bets yet plunged into startups last year at the market top. (Wall Street Journal)

• We are all behavioral, more or less: A taxonomy of consumer decision making How 17 behavioral biases relate to each other, to measures of cognitive skills, personality, and demographics. Most consumers in our nationally representative panel data exhibit multiple biases, with substantial cross-person heterogeneity. Biases are positively correlated within person, especially after adjusting for measurement error. We reduce our 20 bias and standard preference measures to four behavioral common factors. (The Review of Economic Studies)

• Why Do Rich People Love Quiet? The sound of gentrification is silence. I soon realized that silence was more than the absence of noise; it was an aesthetic to be revered. Yet it was an aesthetic at odds with who I was. Who a lot of us were. (The Atlantic)

• Two Weeks In, the Webb Space Telescope Is Reshaping Astronomy In the days after the mega-telescope started delivering data, astronomers reported exciting new discoveries about galaxies, stars, exoplanets and even Jupiter. (Quanta Magazine)

• What's the Deal With Water Bottles? Once you start looking for drinks in standup specials, they're everywhere … (New York Times)
Be sure to check out our Masters in Business interview this weekend with Anat Admati, Professor of Finance and Economics at Stanford University Graduate School of Business. She is also the director of the Corporations and Society Initiative, and a senior fellow at Stanford Institute for Economic Policy Research, She was named by Time Magazine as one of the 100 most influential people in the world, and is the co-author of The Bankers' New Clothes: What's Wrong with Banking and What to Do about It.
Food Inflation Is Rampant Around the World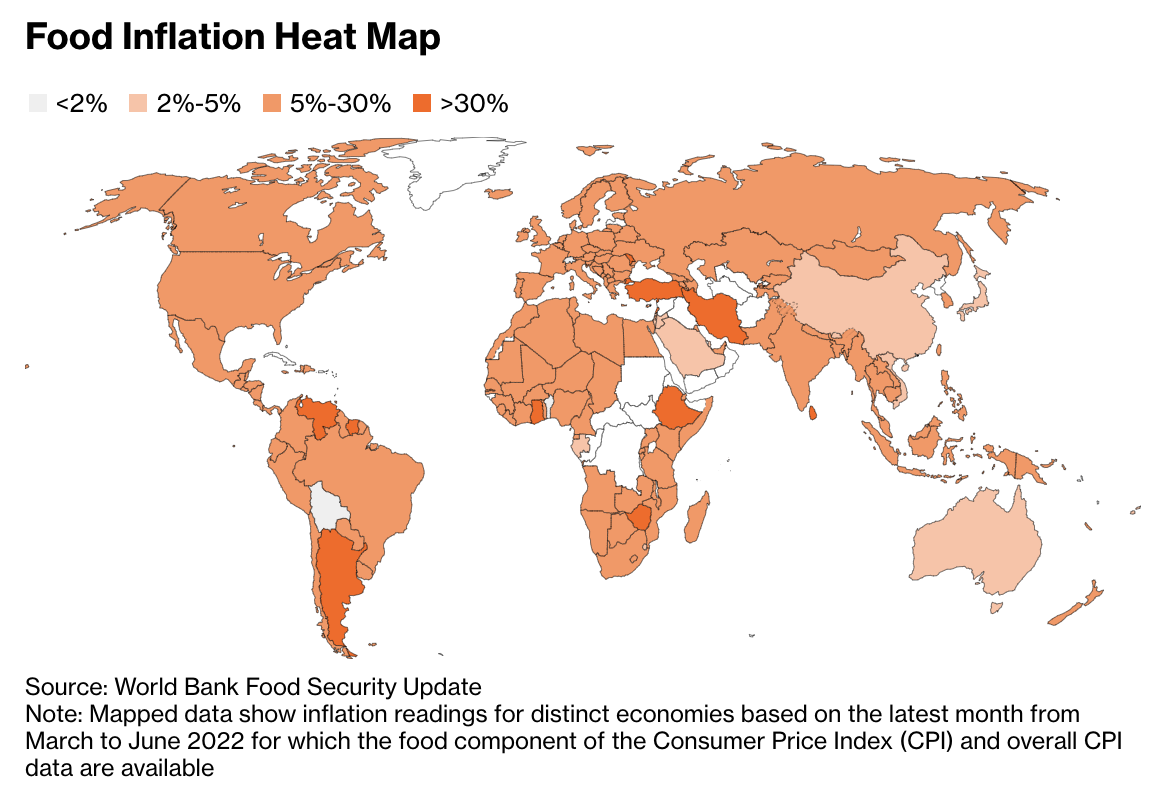 Source: Bloomberg
Sign up for our reads-only mailing list here.